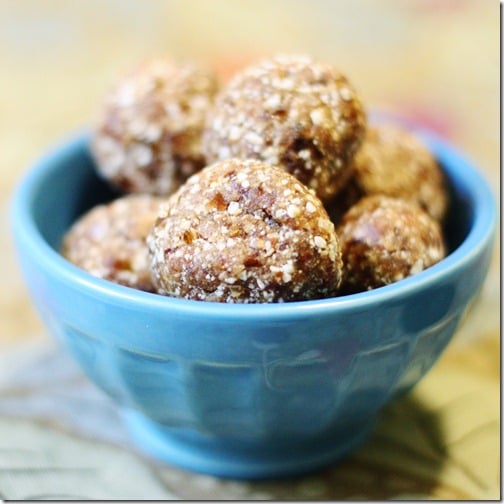 Last week, I posted a bunch of ideas for quick, easy vegan snacks, as well as some thoughts on the importance of consistent snacking for busy schedules. Most of you seemed to love the post, though it was rightly pointed out that a) a lot of the recipes contain nuts, which means they're off limits for those with nut allergies, and b) most of the recipes derive their primary energy value from fat. For those of you who are following lower fat diets under the care of a physician or health provider, recipes rich in nuts and seeds and/or nut butters may not be optimal.
So I've been trying, for the last week or so, to think of a quick and easy snack option that is sweet, portable, and tasty, but also easy to make nut-free and lower fat. I think I've got it.
The star of this dish is puffed rice, which you can purchase from numerous suppliers. My brand of choice is Arrowhead Mills: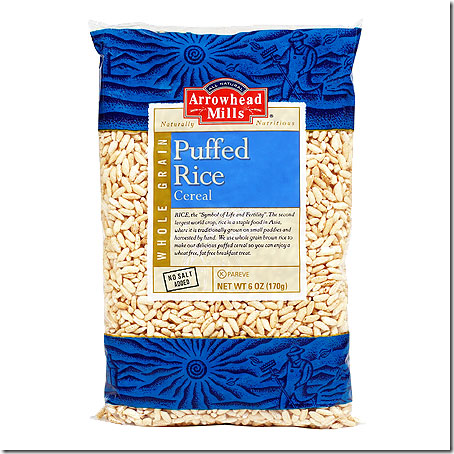 If you're a gluten free eater making this recipe, please check to be sure that Arrowhead Mills' puffed rice (or any brand you're considering) is certified gluten free! I'm not entirely sure myself about Arrowhead Mills' gluten policy, but I'm sure it's easy enough to find out (or Valerie, who is a fount of knowledge about all things GF, probably knows the answer).
Basically, this recipe follows the typical template for any nut and date snack: equal parts dates to nuts, except in this case we're using the puffed rice instead. I ultimately used 1 cup dates and 1 1/4 cups puffed rice, along with a tablespoon of date paste for extra binding and a tablespoon of peanut butter. The balls will hold together without the nut butter, so you really can make this recipe 100% nut free if you wish; you can also use a seed butter if you can tolerate seeds. Sunflower seed butter would be amazing here.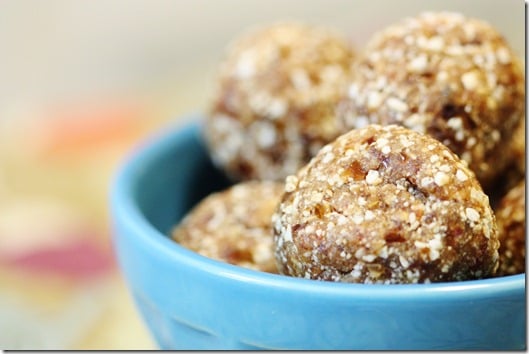 Date and Puffed Rice Balls (vegan, gluten free with certified puffed rice, soy free)
Makes 10 Balls
1 heaping cup pitted dates
1 1/4 cups puffed rice
1 tbsp date paste or agave syrup
1 tbsp peanut butter, almond butter, or sunflower seed butter (or simply omit)
Optional add ins:
2 tbsp chia seeds or hemp seeds
1 tsp pumpkin pie spice
2 tbsp cacao nibs
Blend all ingredients in a food processor on high. Roll into balls, pack, and eat on the go!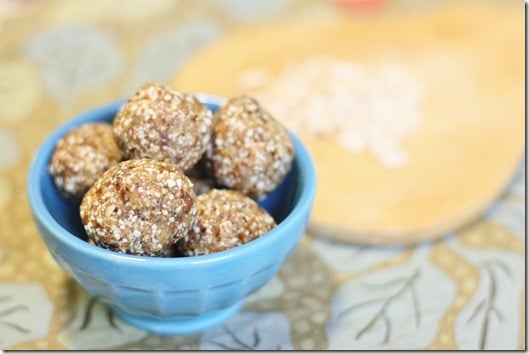 This snack is on the sweeter side, but in spite of the fact that I'm generally mindful of sugar in my diet, I also believe that sugar is our first and most immediate source of energy, and that dates and fruit are helpful foods to eat before exercise and on the go. These balls also make pretty tasty little dessert bites, if I do say so myself!
Hope this recipe is helpful for my nut allergy readers, and anyone who's tired of the nut/date formula in raw snackage. I enjoyed the crunch and lighter texture myself!
Till tomorrow, when I'll have a new tartine/sandwich recipe to share…
xo