It has been a week of particularly nice nice lunchboxes over here, which is the result of my efforts to perfect a recipe for carrot oat crackers and the fact that I roasted a kabocha squash over the weekend. It is also the result of some lovely and giant portobello caps that I found at the market over the weekend, and quickly got about to marinating.
My standard portobellow marinade is based on the one from my recipe for raw "steak" and potatoes—portobello steak, of course. This time, I reduced the marinade just slightly, since I was only making it for 2 caps. Here's the marinade I ultimately used:
1 1/2 tbsp avocado oil
1 tbsp maple syrup
1 tbsp nama shoyu or tamari
3 tbsp balsamic vinegar
It's heavy on the vinegar, which I love, but do reduce to 2 tablespoons if you love it less. I usually slice my mushrooms prior to marinating because it makes the marinating process a bit easier, but you can certainly marinate them whole if you want. Be sure to gently cut out the stem (without breaking the mushroom). And if you're craving something warm, go ahead and bake or grill these after marinating—I love the simplicity of simply marinating and eating them on the spot!
The carrot and oat crackers are a work in progress:
These started as a raw recipe (with the usual juice pulp leftover from making carrot juice) but I'm now working on a cooked version for all of my dehydrator-free folks (I like to give options!). They're not quite ready for you guys yet—soon, soon—but I have been enjoying polishing off all of the test batches
This all came together with some veggies for snacking, my simple tahini dressing (tahini, lemon, a touch of tamari, a touch of maple syrup) and some of my raw chocolate walnut maca balls:
My next lunchbox features my all time favorite of autumn squash:
There are few culinary duties I dislike more than opening, de-seeding, and roasting a giant kabocha squash, but until pre-cut kabocha is available, I'll stop my whining and keep my cleaver handy. Kabocha squash, as you may have heard on countless blogs, is heavenly stuff.
A friend of mine recently told me that kabocha squash is fabled to be an aphrodisiac. While I've never experienced that particular impact from eating it, nothing would surprise me. Kabocha confers all sorts of bliss. If you're interested in exploring more of my favorite uses, check out my kabocha squash flatbread or my kabocha and avocado sandwich!
And I've always thought that kale and kabocha go nicely together—though I think kale goes nicely with just about everything.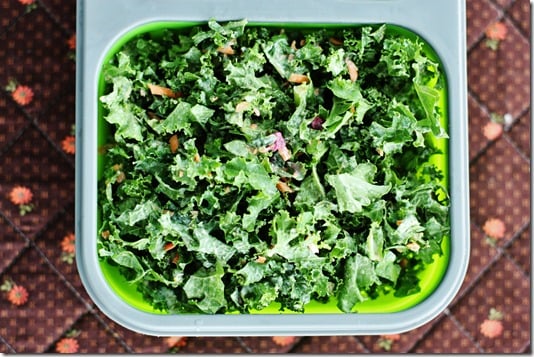 That's kale massaged with some of my creamy walnut curry dressing. I threw in the last of my crackers for good measure.
My schedule for weekly food prep was thus:
Saturday, after class: roast kabocha squash, make walnut and tahini dressings
Sunday, mid morning study break: Carrot and oat crackers, whisk together mushroom marinade
Sunday-Monday overnight: marinate mushroom
Monday: Massage kale + go!
The pieces may individually seem like work, but the whole comes together easily with a little planning.
What's in your lunchbox today? I'd love to hear!
xo