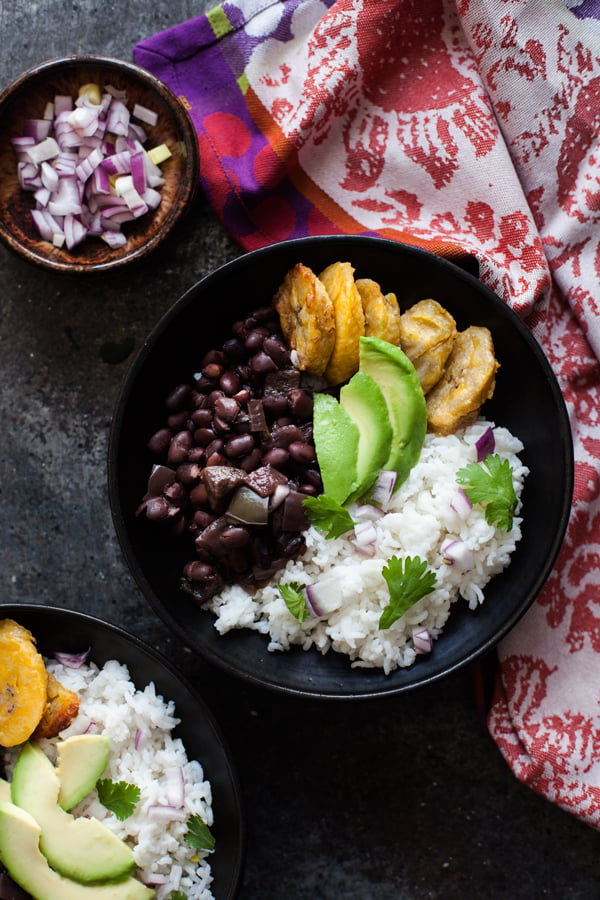 When I posted my easy slow cooker Cuban black beans on Tuesday, a friend commented to ask if I'd strategically planned the post to coincide with President Obama's historic trip to Cuba. I didn't, though I was happy to see that I'd accidentally chosen a recipe that was well-timed. These cuban black bean and cilantro lime rice bowls with baked plantain are a continuation of the theme, and they're a great example of what to do with a big pot of the Cuban black beans once they're cooked.
The nice thing about this recipe is that two of the components–the beans and the rice–are the sort of simple recipes you can batch cook again and again, serving them as sides or using them as versatile weekly staples. The rice in particular is a favorite of mine, and it's the rice recipe that I turn to whenever I'm making rice and beans, a spicy tofu scramble, my quick and easy chickpea scramble, or any other recipe that calls for a dash of cumin, cilantro, and chili. The recipe was inspired by Janae's recipe in her lovely e-book Simple, a collection of 15 easy plant-based meal ideas (which I highly recommend), and over time, I've made it my own, something I cook up without even having to think about the formula or steps.
I recommend using white basmati rice in this recipe for the best flavor and texture, though I give a brown basmati option, too. For the most part, I use brown rice varieties at home, but I also keep basmati and jasmine rice handy, either to use as an accompaniment for Indian or curry dishes, or to whip up when I need rice to cook super quickly (I usually find that basmati cooks up in only 15 minutes). The tender, sweet texture is a nice departure from nutty and chewy brown rice, too.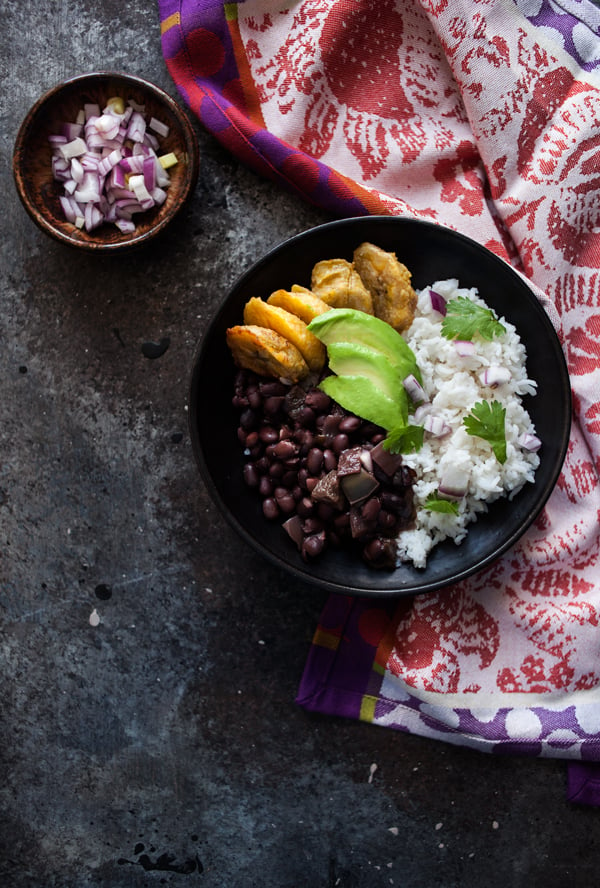 These bowls mark my first experience with making baked/roasted plantains at home. I can't believe it's taken me so long to work with this wonderful ingredient! I've always liked plantains when I tried them out and about, but for whatever reason, I don't usually think to buy them or use them. I absolutely love the sweet, starchy flavor and texture of the simple baked plantains in this recipe, and I'll definitely be making them again. (I'm keen on trying mashed plantains now, too.)
Print Recipe
Cuban Black Bean and Cilantro Lime Rice Bowls with Baked Plantains
Ingredients
For the cuban black beans:
For the cilantro lime rice:
3

teaspoons

coconut oil

1

cup

white or brown basmati rice

rinsed under running water for about a minute

1/2

teaspoon

salt

2 1/4

cups

water

1

tablespoon

lime juice

1/3

cup

loosely packed

chopped fresh cilantro
For the baked plantains:
2

large

very ripe plantains (black is good!), sliced into rounds

1

tablespoon

melted coconut oil

Coarse salt
Bowl toppings:
Chopped red onion

cilantro, or green onions

1

sliced avocado

Hot sauce or salsa

Etc.
Instructions
Preheat the oven to 425F. Toss the plantains with the melted coconut oil and transfer them to a parchment or foil-lined baking sheet. Sprinkle them with salt. Bake for 25-30 minutes, flipping the rounds once halfway through cooking.

While the plantains bake, prepare the rice. Heat two teaspoons of the coconut oil in a medium sized pot over medium low heat. Add the rice and toast, stirring constantly, for a few minutes, or until the rice is smelling nutty and fragrant. Add the salt and water and bring to a boil. Reduce to a simmer, cover, and simmer for 15 minutes, or until the rice has absorbed all of the liquid. (If you use brown rice, this will take more like 40-45 minutes, and you may want to start the rice before you bake the plantains.) Fluff the rice gently with a fork, cover, and allow it to steam for another 5-10 minutes, then stir in the remaining teaspoon coconut oil, lime juice, and cilantro.

To assemble the bowls, place a quarter of the rice, a half cup of the black beans, and a quarter of the plantain rounds into each of four serving bowls. Top with chopped red onions, avocado slices, chopped cilantro,

cashew cheese

, and/or whatever other toppings you like. Serve.
Notes
Leftover beans will keep for up to 6 days in an airtight container in the fridge. Leftover rice will keep for up to 3 days. Plantains will keep for 2 days.
As you know, I love a good bowl, and this recipe has everything a good bowl should: lots of texture, a smattering of all the macronutrients, a hint of spice, and it's plenty filling. Serve it with some sauteed kale or collard greens for dinner or lunch, or with a big green salad (a mixture of romaine, cucumber and my smoky avocado cumin dressing is especially refreshing with these flavors!).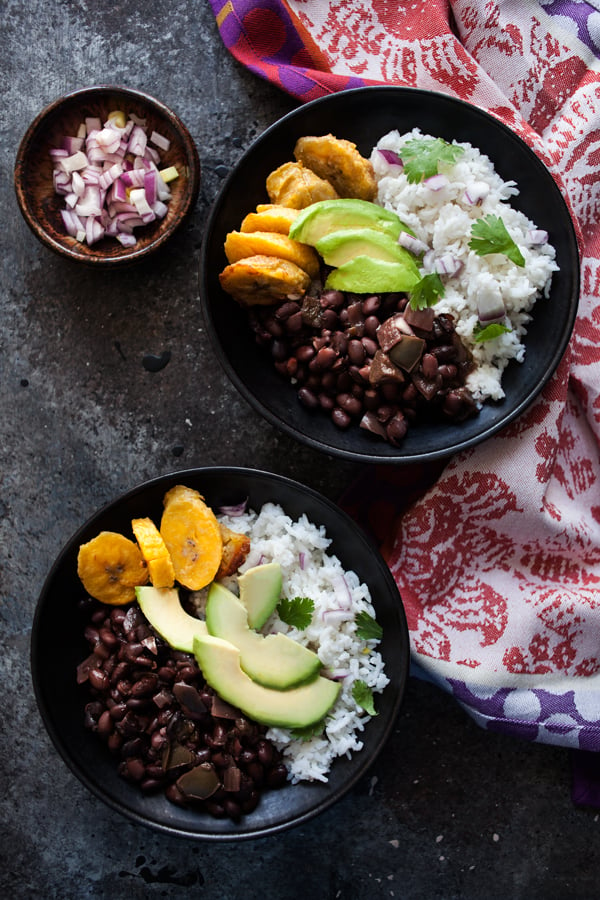 Hope you'll enjoy the bowls, friends. I'm off to finish studying for my next Advanced Nutrition exam, which I'll be tackling later this after. At that point, it'll be 3 down, and 2 more to go. Phew! This semester feels long, even if I'm enjoying my classes a lot. I look forward to catching up with you for weekend reading.
xo