The last time my boyfriend wrote a guest post for CR, he spoke about his discomfort ordering in restaurants as a newish vegan eater. Specifically, he addressed the fear of being perceived as difficult by wait staff. I was glad that he spoke up about this fear. I've seen a lot of it in my years of writing this blog and coaching my clients. Discomfort with the idea of being a "difficult eater" is no small issue for new vegans and vegetarians; it is, in fact, strong enough to prevent a lot of folks from transitioning fully to the diet.
Whether you've felt this fear or not, restaurant dining and social gatherings can be complex territory for vegans—or for anyone who has chosen, either for health reasons or for philosophical reasons, to eat a bit differently. I've never worried too much about coming across as difficult, but I have experienced some discomfort in both cross-cultural and cross-generational situations. It's not always easy to articulate veganism across a cultural gap, especially because food is a symbol of unity, of coming together, in so many cultures.
When Steven wrote his post, we got a few great questions/comments about this very issue. Has being vegan eroded our ability to partake fully in social/family gatherings? I'll share them below:
Sarah:
I would love it you guys could comment more on if you feel like eating different food than your relatives made you feel less connected with them as a result. So much social bonding and non-verbal communication happens at the dinner table, and it's something I think about frequently. I wish more studies looking at vegetarian/veganism would look at the degree to which a person's change in dietary habits impacts their sense of social connection and ability to maintain the same support circle in relation to retention rate. Detracting from this area of life has substantial impacts on health that I suspect we often then attribute to nutritional deficiencies…Anyway, being that you both seem to have strong family ties that include food traditions I'd love to hear more about whether or not you feel any less connected to your families when you no longer share the exact same meals as them at a gathering.
Rebecca:
Thoughtful comment/question. I would also like to hear more about this. I tell my kids food is for their body, for celebration, and for community. Or sometimes I say connection. The actual SHARING of food is huge in most cultures – what happens when you can't share? Is it important to find something you CAN share in common? Yes? No? Just being together doesn't seem the same dynamic as partaking of something in common. I'm guess I'm assuming here that it's not in an ordering-type context but in a community home-made context.
It seemed to me that these questions were worthy of a dedicated post. I've written quite a bit about how my food choices impacted my relationship with my grandmother, who was the cook in my family when I was growing up. The act of feeding us (my mom and I) symbolized her role as the matriarch of our small, tightly knit Greek family. Food was also the currency of her love and affection. Because I stopped eating red meat when I was young, and then ate more and more narrowly as my eating disorder developed in adolescence, food became a significant source of tension between my Yaya and me. Sadly, she had succumbed to dementia by the time I had established a happy relationship with veganism, so we never really resolved our food conflicts. I often wish I'd had a chance to bake her a pan of Isa's moussaka or make her a pot of my vegan avgolemono. But I do like to think that she would be very proud to see that, in my own way, I have taken on the mantle of cooking and celebrating food in my family.
The question that I think both Sarah and Rebecca are getting at is whether or not vegan moussaka would have been enough. In other words, to what extent does the sense of connection that we associate with eating actually reside in eating the same things?
To some extent, this is a difficult question for me to answer. My eating disorder developed between the ages of eleven and twelve, so for better or for worse, I simply don't have a lot of early food memories that involve a feeling of cohesion. My experience of shared meals as a young adult was largely shadowed by deception: pushing food around so that it would seem as though I'd eaten more than I had; trying to avoid eating with friends because I didn't know if I'd have safe options; going to great lengths to discreetly dab oil or dressing off of my salad or my vegetables. These memories are also shadowed by guilt; it really wasn't until my mid-twenties—until after I became vegan and started to write this blog—that I was able to enjoy restaurant meals or family gatherings without coming home to a guilty conscience about what I'd eaten.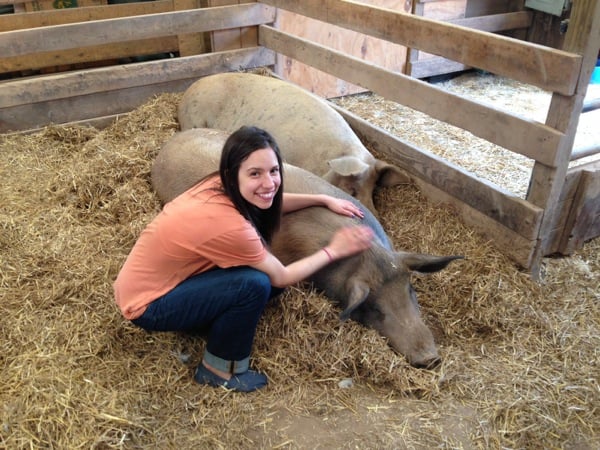 For me, going vegan marked the start of my ability to see food as a vehicle for connection. I'm often asked how my mom received my choice to be vegan, given my history. It would have made sense for her to be wary, and she did ask me an obligatory set of worried questions when I announced my decision to her (what about protein, etc.). But I think she saw right away that, as a vegan, I had learned how to enjoy food again. She saw me opening cookbooks and trying recipes. She saw how eager I was to make vegan dishes and share them with her; she saw my excitement when I was able to cook us our first vegan Thanksgiving. Through veganism, I developed the kind of enthusiasm for food that my mother had always wanted for me.
Years later, my passion for food—food writing, food creation, recipe development, dining out, entertaining, you name it—is still inextricably linked with my veganism. I can't imagine one without the other. My food memories of life as an omnivore feel dissonant and sad, whereas my food memories of life as a vegan feel redemptive. I share food with my loved ones far more authentically and wholeheartedly now than I ever did before going vegan, even if I'm not always eating the same things they do, because I have a healthy attitude toward eating. I think it's true that eating different food at the same table can create a sense of discord. But my own experiences have shown me that the most profound discord stems not from eating different foods, but rather from having a different relationship with food than everyone else.
With all of this said, I realize that I have a special history. So I asked Steven, who has a "normal" history with food, what he thought. His response was that he sees the experience of eating together as symbolic, rather than literal. Food may be what brings people to the table, he told me, but the connection between people shouldn't reside exclusively in the food itself. "If I'm having rice and beans," he said, "why should it matter if my family member is having rice and beans and chicken?" He noted that, in his family, it has never been incredibly important that everyone eat the exact same thing, so long as everyone breaks bread together, so to speak. And he made a final point that stuck with me, because I think it gets lost in larger conversations about the choice to go vegan: "Pressure to conform is unavoidable in our society," he said. "Your family should be the last people putting pressure on you to conform, because they should know what's important to you."
I agreed with everything Steven said, especially this last point. But as someone who has chosen to turn food into a career, I do sympathize with the idea that authenticity and specificity matter. This is actually something that I struggle with as a recipe developer. For example, I recently posted a lentil Bolognese recipe on Food52 that got a mixed reaction. Some readers loved it, others were somewhat affronted by the fact that I'd call a 45-minute lentil dish "Bolognese," when the traditional Italian version involves a meat-sauce that has been slow-simmered, artfully, for hours.
Hey, I get it. I'm vegan, and my first priority is to create food that has in no way relied upon the commodification of animals. But I am also a food lover, and I'm always on a mission to become a better cook. I didn't grow up cooking and have much to learn, but I spend a lot of time poring over food writing, from Marcella Hazan and Harold McGee and to Julia Child and Elizabeth David. I understand the importance of tradition and technique, even when I don't observe them faithfully. For those who really know and love food, there is something important about the idea of a time-honored recipe, passed uncompromised from generation to generation. It isn't enough to come up with something that's almost the same, let alone take huge liberties with major ingredients.
In this way, specificity does matter. It mattered to my grandmother, who perceived my refusal to partake of her lamb keftedes as a rejection of culture. Much as I'd like to believe that I could have impressed her with tofu or lentil keftedes, I'm not so sure. She might easily have seen my attempt to veganize her food as an insult, rather than an olive branch.
Specificity matters to a lot of food lovers. It matters to chefs, who may struggle to understand why a vegan diner would ask for modifications to a dish that has been created with artistry, passion, and a strong sense of tradition. And it can matter to those of us who regard food itself—particular foods, not just the act of eating—as a vehicle for shared experience.
I guess my own way of reconciling all of this is to acknowledge that most important choices involve compromise. Veganism is in many ways all about compromise, about the acceptance of certain tradeoffs. The big tradeoff, of course, is the surrender of animal foods in exchange for a deeper sense of philosophical harmony when it comes to eating. I had a relatively easy vegan transition, but like all vegans, there are things I miss. I miss Greek yogurt. I miss half-and-half in my coffee. I miss feta cheese. Yes, I eat foods and products that successfully replicate these things for me, to a degree that is perfectly satisfying, but no, it's not exactly the same. And that's OK. Because, while I'm happy to have grown accustomed to the taste of soy milk and almond milk in my coffee, and while I can happily make due with homemade coconut yogurt, I really can't accept the idea that an animal was commodified, held captive, hurt, or killed so that I could enjoy my food just a little bit more. I care tremendously about what I eat and how good it tastes. But I don't care so much that I'd refuse small tradeoffs that allow me to interfere less with non-human animals and their wellbeing.
Shared meals are another area where I'm willing to embrace some amount of compromise. I'd probably have been a little less nervous meeting Steven's family if I weren't vegan (in spite of the fact that they were awesome, and I had nothing to worry about). Accepting dinner party invitations would be just a little smoother if my host didn't have to go out of his or her way to accommodate me. Traveling in foreign places might feel a little less daunting, initially. But in the grand scheme of things, these day-to-day frictions feel totally worthwhile—insignificant, even—because they allow me to eat in accordance with my values. So long as I can use what I know about cooking to create vegan fare that is satisfying and abundant, so long as I can use a couple of cool vegan products to replace the stuff that I miss, and so long as I can wing it when it comes to travel and restaurants, the tradeoffs I've made feel worthy and right.
There is another tradeoff that's worth mentioning here. If veganism has taught me that it's worth it to miss out on some specific food experiences in order to eat in accordance with my beliefs, then it has also taught me how to surrender other, less important sources of friction when it comes to food—namely, my own tendency to create rules and to get stuck in my head.
Case in point: Steven and I share nearly all of our meals. In past relationships, I often cooked for my significant other and for myself, but that didn't stop me from finding ways to eat selectively. I'd prepare some hearty vegan recipe and stuff my plate with salad, allowing my boyfriend to enjoy hefty portion of casserole or risotto while I ate 75% greens and 25% entrée. If I made a pasta recipe, I'd serve his over real pasta and mine over spiralized zucchini or steamed kale. At the time I justified this as a prioritization of nutrient-dense ingredients (i.e., greens instead of noodles). But the truth of the matter is that these habits were mostly a concession to my orthorexic tendencies. A misguided concession, I might add: grains and proteins are nutrient-dense, too.
When Steven and I became serious, I made a vow to change this pattern, to no longer define myself as somebody who must serve all of her food over a mountain of green leafy vegetables. Steven has undertaken an enormous lifestyle change in eating vegan with me. The change I've made for him, for us, and for myself is to share food with him in a way that feels fully participatory. It has been a real treat to watch Steven discover vegan food, to see him marveling at what can be done with beans, grains, nuts, seeds, and veggies—along with some flourishes of Daiya, Beyond Meat, and Earth Balance. It has inspired me to cook a wider variety of foods, to add more flavor and variety to my repertoire. In many ways, I'm rediscovering vegan cooking as my boyfriend experiences it for the first time. And I'm learning how to create less boundaries and restrictions for myself with food as I go.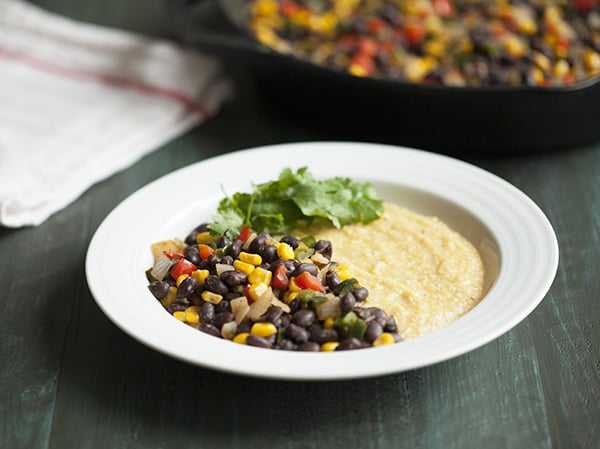 I mention this last point because I think that in the past, I made my already selective diet unnecessarily confined. Leafy greens are wonderful, but when I think back to all of the many the kale salads I heaped upon my mom when I first went vegan, I wish I'd made her a quinoa and broccoli bake or a black bean skillet scramble with cheesy polenta now and again, too. I wish I'd been able to prioritize my own health concerns a little less, and our shared enjoyment a little more. I wish I'd known better how to turn vegan food into a bridge, rather than a source of difference.
I intend to be vegan for life, and I want that to be a life in which I share food with people I love. When you choose to become vegan or vegetarian, you necessarily give up a certain amount of common ground with family and friends. You can regain a lot of that common ground by demonstrating an open, enthusiastic, inclusive approach to eating. For me, that has meant embracing a slightly more varied and less vegetable-centric approach to food. I'm grateful to Steven for inspiring me in that direction. The other night, when we had pasta for the second time in a week, he noted that I would never have made pasta in such close succession when we started dating.
"I hope it's not just for me," he said carefully.
No indeed, I thought as I stared down at my plate of hearty marinara and (reasonably portioned) kale salad. It was for me, too.
As always, thoughts are welcome. Happy Tuesday, all.
xo
Pasta photos in this post were taken by James Ransom for Food52.