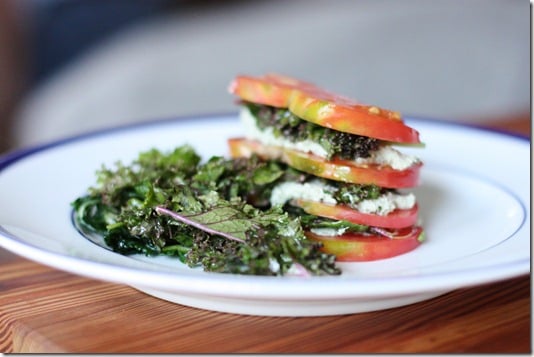 Hello from the Big Easy!
What started as a really disappointing week (cancelling my trip to Portland) has ended with feeling better and making it (thankfully) to Chloe's place in NOLA. I recently told a friend in DC that being around Chloe is always like a homecoming for me. Around Chloe, I feel safe, relaxed, and totally myself. It has always been that way, and I know it always will. That's the power of childhood friendship!
I've been celebrating my return to vegetable gluttony since I got here, with tons of fresh salad and delicious raw food. As I've noted recently, raw recipes tend to be how I celebrate the beauty of food—more so than with any other kind of cuisine—so it's only appropriate that I have both salad porn and a lovely raw entrée for you tonight.
When I got here, I immediately had a chance to see Chloe and Knud's lovely new home (and its lovely, spacious, and light soaked kitchen). Since then, it has been relaxed, quiet hours of books, horror movies quality films, walks, some yoga (more on that soon) and possibly a beach jaunt this weekend. But most importantly, there has been fresh, colorful food: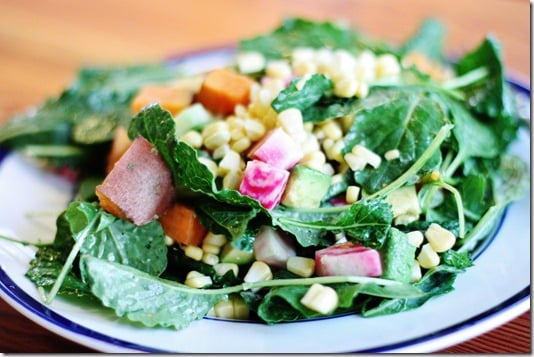 That is a gorgeous salad of sweet potato, corn, fresh candy beets, avocado, and baby kale. And last night, I decided to whip up one of my favorite raw recipes: tomato napoleons.
I've always said that raw foodism is much more about "templates" than it is about recipes. Zucchini pasta. Raw veggie rice. Salads. Soups. Stacks (napoleons). Memorize these techniques, and you have endless ways to prepare raw food (dehydrator free and simply, I might add). I adore making tomato napoleons in the summer, preferably with fresh basil: nothing could be more vibrant, flavorful, and elegant. This recipe, which took advantage of a beautiful local heirloom tomato and basil from Chloe's own garden plant, was no exception. Try it, and be amazed at how something so simple can taste so good!
Heirloom Tomato, Kale and Basil Pumpkin Seed Napoleons (vegan, high raw, gluten free with GF mustard, soy free)
Serves 4
2 large heirloom tomatoes
1 bunch of curly kale
1 1/2 tbsp avocado, olive, flax, hemp, or sacha inchi oil
2 tbsp + 2 tbsp lemon juice, divided
1 tsp agave nectar
1/2 + 1/4 tsp sea salt, divided
1 tbsp + 1 tsp dijon mustard, divided
1 1/2 cups pumpkin seeds, soaked four hours or more, rinsed, and drained
1 tsp apple cider vinegar
Black pepper to taste
1 clove garlic, minced
1/3 cup fresh basil, tightly packed
1. Place seeds, 2 tbsp lemon, ACV, 1/2 tsp salt, pepper garlic, and 1 tbsp mustard in a food processor. Process on high, scraping down the sides of the bowl when necessary. When the texture is getting more even, add a thin stream of water (3-4 tbsp) until the mixture is taking on a totally smooth, spreadable texture.
2. When the texture is right, pulse in the basil till it's well combined. Set pumpkinseed spread aside.
3. Wash, de-stem, and chop the kale into small pieces. Whisk together the oil, 2 tbsp lemon juice, 1 tsp mustard, agave, and 1/4 tsp salt together. Pour over the kale, and massage well, until the kale is wilted and well dressed.
4. To assemble napoleons, slice the tomato into 1/2 inch slices. Layer one slice on a plate, top with a tablespoon or so of the pumpkinseed spread, cover with a layer of kale, and repeat. End with a single layer of tomato on top, and stack until it's too high to stay upright if you stack any more!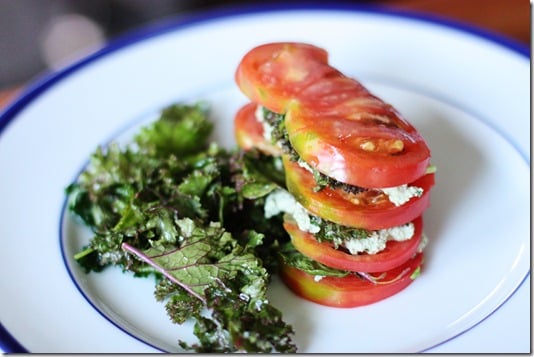 What a beautiful entrée!

I served this dish with kale salad garnish and a fresh salad of leftover sweet potato, corn, and avocado. It was wonderful.
If vegetable and nut "pate" stacks haven't occurred to you before, this is the time to try them. It's an easy and visually beautiful way to get dinner on the table. Give it a shot this weekend, and let me know what you think. I'll be back soon with more NOLA dining, cooking, and walking adventures!
xo