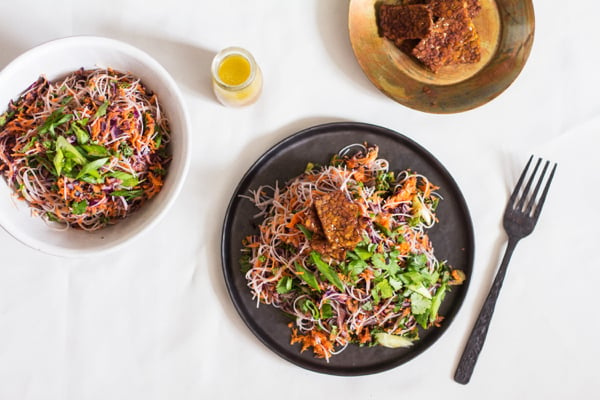 I threw this kelp noodle and cabbage salad with seared tempeh and carrot orange miso dressing together last weekend, sort of on a whim, inspired by stuff I had at home (one bag of kelp noodles that survived the move; a block of tempeh that came with us, too; fresh cabbage and carrot, kale). The dressing was originally going to be my carrot miso dressing (a CR classic!) but over time I was inspired to make something a little sweeter and more like a vinaigrette.
Full disclosure: the dressing is probably the best thing about this salad. And, whether the ingredients appeal to you or not, make the dressing. I've now served it over several salads, including a soba noodle salad that the boyfriend and I all but demolished last night, and it's terrific.
That said, it's hard to argue with a salad that's so rich in texture. Crunchy kelp noodles and cabbage, chewy and hearty strips of lightly seared tempeh, sweet dressing, slightly bitter kale. It's all pretty great.
Kelp Noodle and Cabbage Salad with Seared Tempeh and Carrot Orange Miso Dressing
Author -
Yields:
4
small or 2 large servings
For the salad:
8

oz

1/2 package kelp noodles, rinsed and snipped with a scissor into small pieces (see this post for instructions)

2

cups

tightly packed

shredded red or green cabbage

2

cups

grated carrot

1

cup

tightly packed

curly kale, finely chopped

1/2

cup

chopped cilantro

1/4

cup

chopped basil

1

green onion

chopped

2

tablespoons

sesame seeds
To prepare the dressing, blend all ingredients together in a blender till smooth. Dressing will make about 1 cup.

Mix all salad ingredients together in a large mixing bowl.

Slice the tempeh into thin strips (about 1/2 inch thick). Heat the vegetable oil in a medium pan till hot, then add as many pieces of tempeh as you can. As soon as it starts sizzling, add a nice dash of tamari. Allow it to brown on one side (shouldn't take long--2 minutes or so), flip, and brown on the other side. Add more oil and tamari as needed.

Toss the salad with as much dressing as you like. I like this salad to be generously dressed, so I'd suggest 2/3 cup to start. To serve, top the salad with the seared tempeh strips and sesame seeds.
That tempeh recipe? It's kind of my go-to, when I don't have time to marinate fancily. Sometimes I'll use coconut oil and just spray the tempeh with Bragg's while it's cooking. So easy.
Hope you enjoy this one. It's perfect for a weekend lunch!
In other news, part of why this was a busy week was that I'm getting set up to do my nutrition counseling in a real life workspace here in Manhattan. I'll be working out of a friend's wellness practice in Chelsea, and I couldn't be more excited. As readers know, I see clients via Skype, phone, and over email, but I love the opportunity to work with folks face-to-face, too.
If you're in the New York metro area and you've been thinking of seeing a nutritionist who is familiar with plant-based diet and understands eating disorder histories–or you're simply looking to improve your diet, enhance your health, lose or gain weight, and feel more vibrant–say hello at [email protected] I'd love to see you.
Happy weekend, friends,
xo
Images courtesy of Lighter.