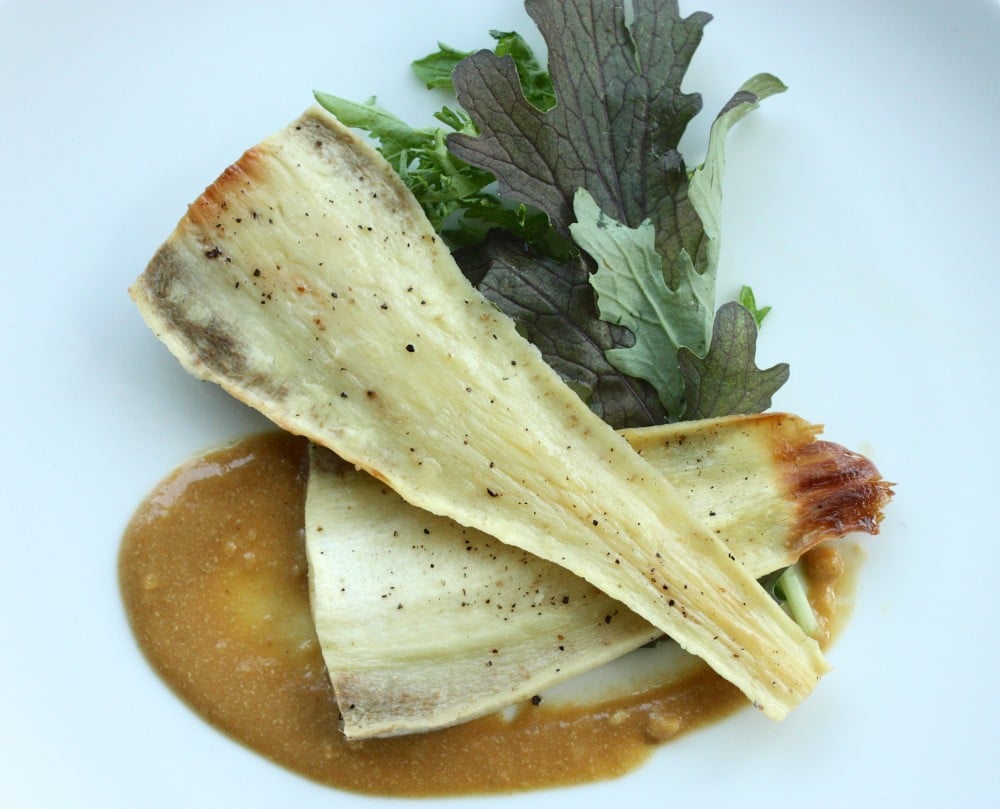 I recently mentioned that I've gotten a chance to enjoy some fresh produce from From the Farmer, a DC-area delivery service that brings local produce directly from farmers to consumers' front doors. It's a wonderful option for folks who aspire to support local farms, but can't make the time to visit farmers' markets on a regular basis. While I do love supporting my local farmers' market, it's been a treat to receive my From the Farmer delivery each week, and see what's in season. I especially like the challenge of concocting dishes according to what I've gotten; I tend to plan out weekly groceries and meals pretty carefully, but in keeping with recent efforts to go with the flow a little bit more in my kitchen, the challenge of spontaneous recipe development is welcome.
I tend to think of parsnips as autumn and winter vegetables, but they're still very much in season here in the DC/NOVA region. Rather than making raw parsnip rice, cheesy parsnip spread, or parsnip and cauliflower soup (my three standard parsnip recipes), I decided to do something out of the ordinary this week. I remembered that parsnip "steak" used to be a standard vegetarian entree on the Blue Hill menu in NYC. I've never tried the dish, but I thought it sounded remarkable. I'm so glad I tried the dish at home, because it's delicious and easy.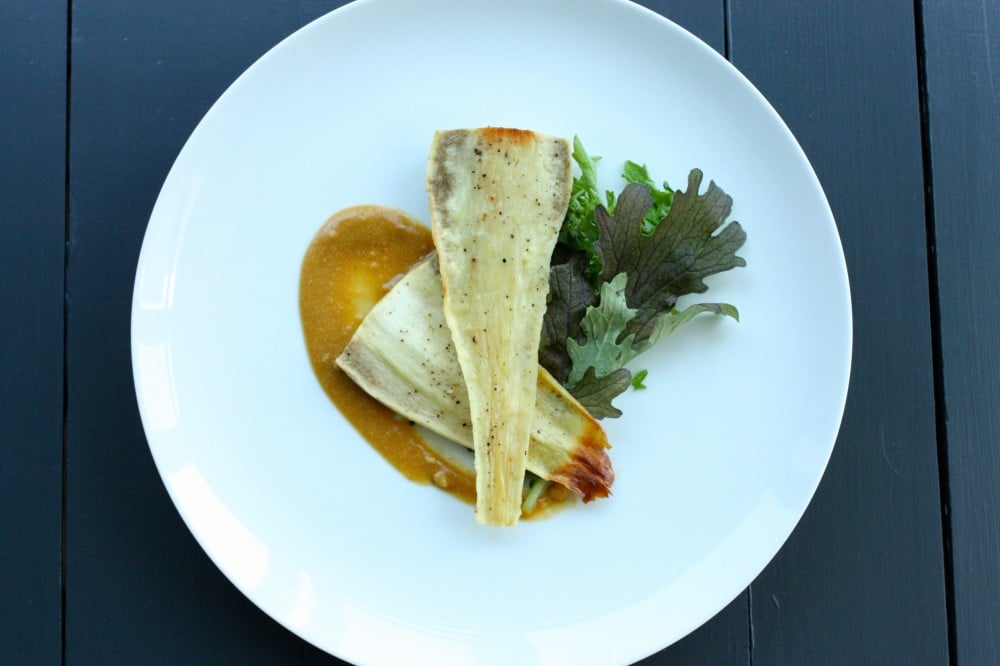 I'm sure it's possible to sous-vide the parsnip, or something like that, to get a perfect texture. I sliced the parsnip into thick slices, coated them in olive oil, sea salt and pepper, and roasted them. That was all it took to get flavorful, hearty results. The miso gravy I used is a spin on my vegan, gluten free gravy for Food52. You could substitute any gravy you like, or even use a dressing of choice (tahini dressing, whatever) instead.
Parsnip Steak with Miso Gravy
Author -
For the parsnip "steak":

2

large parsnips

sliced into 8-12 thick slices (about 1/2 inch) (you may need to make more if you're working with a smaller parsnip)

Olive oil

Sea salt

Black pepper

For the miso gravy:

2

tablespoons

nutritional yeast

1/4

cup

all purpose or chickpea flour

1 1/2-2

cups

low sodium vegetable broth

2

tablespoons

mellow white miso

1

tablespoon

olive oil

1/2

teaspoon

dried thyme

crushed

1/2

teaspoon

garlic powder

Black pepper

to taste
1. Preheat the oven to 375 degrees. Coat the parsnip slices in olive oil as needed and arrange on a lined baking sheet. Sprinkle with sea salt and black pepper. When the oven is ready, place the parsnips in the oven and roast until browning and fork tender (about 35 minutes).

2. While the parsnips roast, heat the flour and nutritional yeast flakes in a small saucepan over medium heat. Stir them frequently, until fragrant and slightly toasted.

3. Remove the flour and yeast flakes from heat and whisk in the vegetable broth, miso, olive oil, thyme, and garlic powder.

4. Return the gravy to heat and cook, whisking constantly, until it is thick and bubbly. Add more broth as needed. Season to taste with black pepper. Pour the gravy over the parsnips, and serve.

Extra gravy will keep in the fridge for about 5 days.
You can pair the "steak" with whole grains, with some lentils or lentil salad, with a bright bowl of marinated kale, or with whatever other sides you like. I suspect you'll be surprised at how satisfying it is, especially with the gravy accompaniment. I loved it.
Now that I've crossed into this territory, I think that cauliflower steak is just around the corner. Stay tuned!
xo