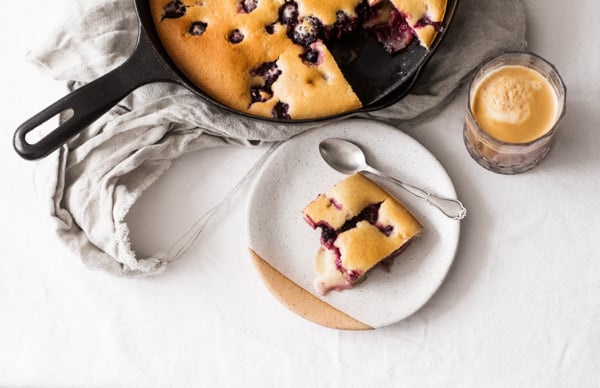 Last Thursday morning, I took my chem final. After three hours and fourteen problems, I came home and promptly baked the following skillet cake for myself. That I was desperately in need of dessert therapy, unfortunately, says a lot about that test and how it went. But the good news is that I've clearly come to love baking, and this summery peach and blackberry skillet cake is the latest evidence.
This is a strange marriage of cobbler and upside down cake. (I say this without every having made either a proper cobbler or a proper upside down cake.) It's like a cobbler in that the fruit is on the bottom, not the top. It's like an upside down cake in that it's cakey, rather than biscuit-like, but it probably has less rise than a traditional upside down cake, and of course it's baked in a skillet, rather than a pan or mold.
I should probably stop trying to find a way to sum up what this cake is, except to say that it's delicious. And it's beautiful, along with being a perfect vehicle for summer produce. The next time you take an exam that doesn't go your way, or encounter any other of life's little vicissitudes, give this peculiar hybrid of a summer dessert a chance.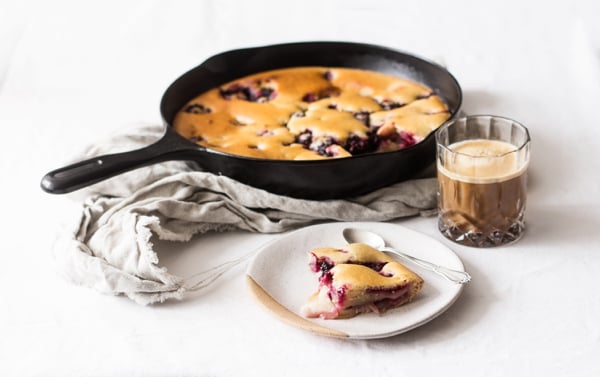 Peach and Blackberry Skillet Cake
Cuisine:
vegan, soy free option, gluten free option, tree nut free
Author:
Prep time:
Cook time:
Total time:
1 lb fresh or frozen peaches, peeled and cut into thin slices
10 oz (about a pint) fresh or frozen blackberries
1 1/4 cups whole wheat pastry flour or gluten-free, all purpose flour
1 1/2 teaspoons baking powder
1/4 teaspoon salt
1 cup soy or almond milk
1/4 cup melted coconut oil or canola oil
1/3 cup applesauce
1/2 cup organic cane sugar
1 teaspoon vanilla extract
Preheat oven to 350F. Place all fruit on the bottom of an oiled, 12-inch cast iron skillet.
Whisk together flour, baking powder, and salt. Make a well in the center and add the almond milk, oil, applesauce, sugar, and vanilla. Mix to combine. Pour the cake batter over the fruit.
Place the skillet into the oven and bake for 35-45 minutes, until golden brown on top. Let cool as much as possible before cutting into wedges and serving. The fruit on the bottom will be bubbly and warm. Enjoy!
The cake is particularly good with some of my raw whipped cream!
On that note, I'm off for the day. I'm sorry that this week has been a lot of brief posts, but the good news is that an August break is now on the horizon, so more recipes and musings are to come. Have a good one!
xo
Images courtesy of Lighter