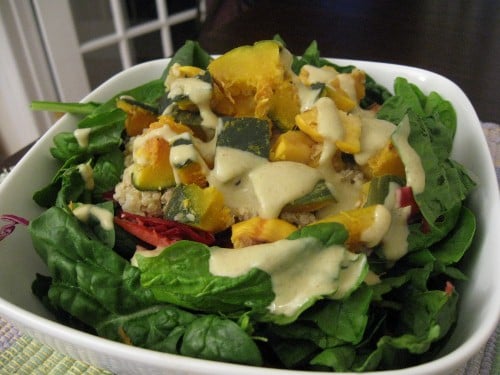 I don't think it's any great secret at this point that I love salad. I've shared countless favorite recipes with you here at CR, which fall into numerous categories. There are the kale salads, ranging from my basic massaged kale salad, to the Gena Divine (inspired by Sun in Bloom's Bella Divine) and the newly concocted Surf n' Turf salad. There are the seasonal salads, such as my avocado, fennel, and cherry tomato salad (summer), my root vegetable salad (autumn), and my cabbage and fennel slaw (winter). (Clearly, I need to get cracking on a spring salad). And then, there are my specialty salads, such as the spicy thai, the cucumber and coconut, or the butter lettuce, cherry tomato, and corn medley.
Today, I'd like to discuss another category of salads. This isn't so much a recipe post as a how-to. What I'm here to show you is how to build a salad that's meal sized. What does meal sized mean? It means salads that boast enough nutrients and density to serve as an entree.
One of the most common complaints I get from clients is that they're eating big salads at lunchtime, but that these salads never keep them full. "I'm starving by 3 p.m.!" they exclaim. When a client tells me such a thing, a familiar dialog always begins:
Me: "So. What's in your lunchtime salad?"
Client: "Wellll. Some romaine, or baby greens, with some shredded carrots or cucumber or tomato, and half an avocado."
Let's see: lettuce, shredded carrots, cucumber, and half an avocado. (Sometimes, a client will add that she dresses it with lemon and stevia; no oil, of course.)
That's lunch?
No wonder my client is starving to death by 3! Lettuce and veggies (which, though nutrient-packed powerhouses, are mostly water, after all) +  half an avocado do not a satiating meal make. If you try to take all of the oomph out of your lunchtime salad, relegating yourself to veggies and more veggies, you're more likely to crash and burn in the afternoon–or to resort to grazing to fill up the hunger void.
So the idea behind today's post is this: how can we put together lunchtime (or dinnertime) salads that are offer us solid nutrition?
You all know by now that I am not a fan of calorie counting. But with that said and understood, I'll also say that there are moments in life when I believe counting can be useful. It's useful for people who are extremely overweight and looking to lose a significant amount. It's useful for women who are very underweight, and need to get the scale moving into higher ranges. It can be useful for athletes in training (though I know many athletes who perform beautifully without it). It can be a useful tool for people who have virtually no familiarity with nutrition, who are trying to learn the values of various foods.
And sometimes, it can be useful for women who are perpetually starving to do brief, approximate experiments with calorie awareness, only so that they can figure out whether or not they might be eating far too little to fuel their bodies. So let's take that client's salad. Lettuce, and a handful or two of chopped veggies, coupled with half an avocado? Probably someplace between 180 and 220 calories, give or take. Now, if an average woman is eating (as most average women do) between 1600 and 2400 calories each day, then the truth becomes painfully obvious: that lunchtime salad was snack-sized.
Bear with me. I don't like this numbers game any more than you do. I believe it's absolutely possible to have certain meals (or even certain days) that are low, calorically speaking, as long as there are other days that are higher than usual, too. If balance is present, then meals or snacks that are exceptionally dense or light don't matter; the point is that you're eating enough from day to day, week to week, and so on, not that you get every single plate of food "right" according to a numeric standard. But if you're finding that salad after salad leaves you ravenous, I think it's time for you to face the obvious: your salads are probably too light to keep you full. And it's time for you to rethink your salad formula.
What's my salad formula? Simple! I like to add at least two or three sources of density to my salads if they're going to serve as meals. What's density? Well, I do mean a source of caloric density, but what I really mean is a source of nutritional heft and satiety. This might be a starch, like sweet potatoes or grains; it might be a fat source, like a tahini dressing or avocado; it might legumes or tempeh or tofu for protein. The idea is that I like for at least two of these things to join forces, affording me a filling and nutritionally rich meal.
Rather than go on about this methodology, I thought I'd show you what I mean. Over the last few weeks, I snapped photos of salads at home and at work, trying to give you a sense of what a nutrient rich salad looks like. All of these salads, by my own very loose estimates, fall into the 400-650 calorie range, which is about meal sized by typical standards. Again, it's not the number that really counts: what I want you all to internalize is the idea of building upon your veggies to form a real meal. Let the slideshow begin:
Salad with sweet potatoes? Almost there.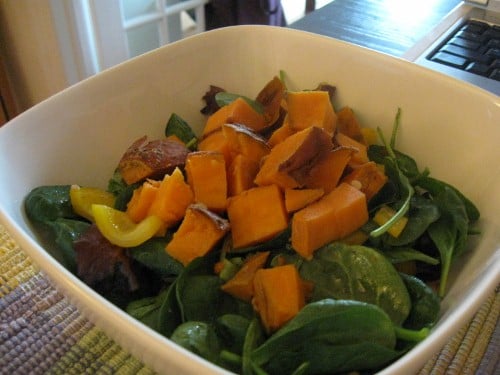 Salad with sweet potatoes, avocados, and my zucchini dressing? Lunch.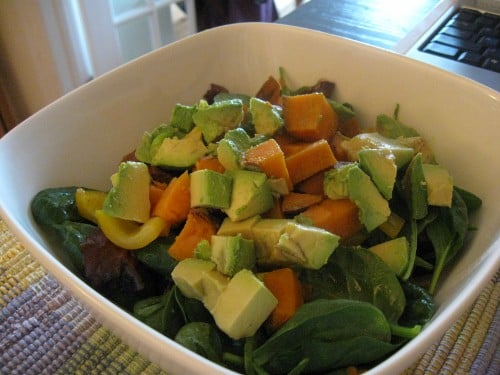 Romaine lettuce and veggies? Sad.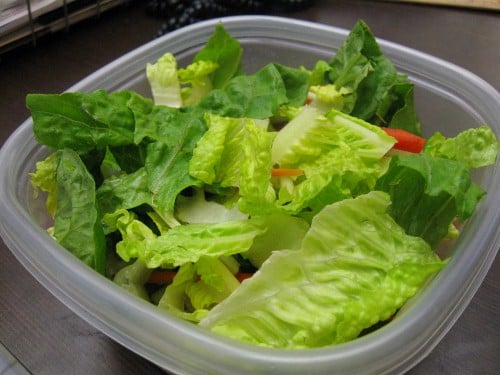 Salad with romaine lettuce, veggies, and white bean and spinach dip? Better.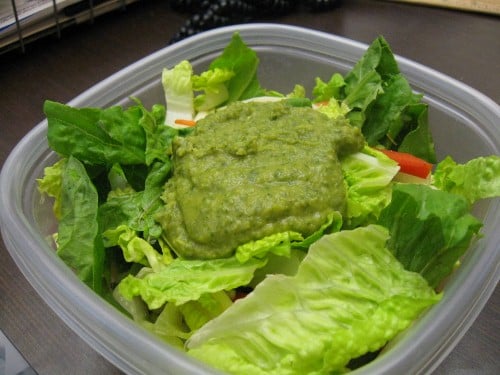 Salad with romaine lettuce and veggies, white bean dip, zucchini dressing and Lydia's crackers? Yum!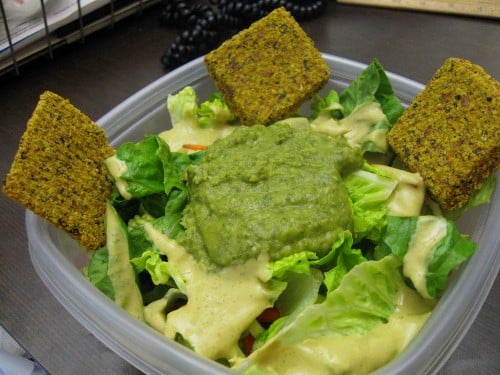 Greens and lentils? Barren.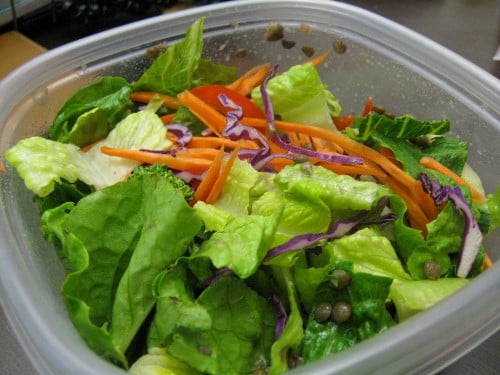 Greens, lentils, olive oil, lemon, agave, and avocado? That's more like it!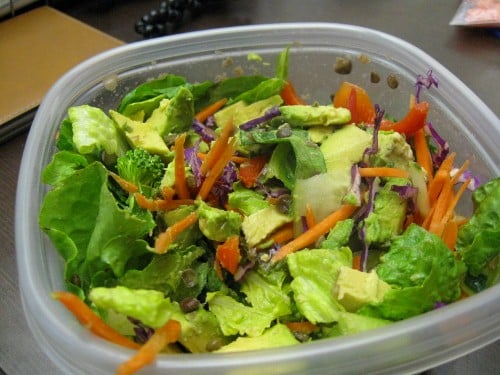 Spinach, cabbage, and carrots? Grumble, grumble.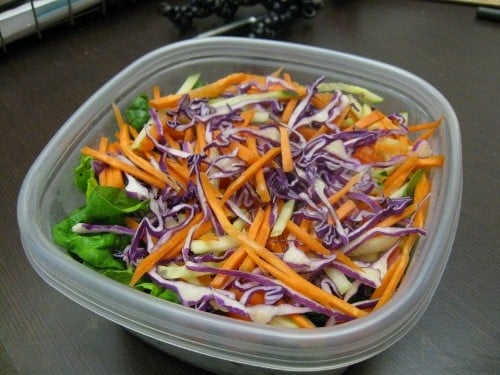 Spinach, cabbage, carrots, pumpkin seeds, and raisins? Kind of.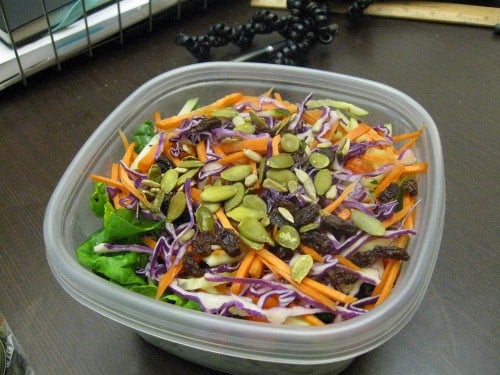 Spinach, cabbage, carrots, raisins, pumpkin seeds, vinaigrette, and a Prana bar? Lunch is served!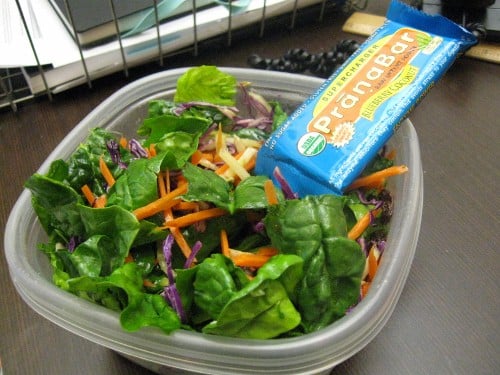 Spinach and ruby kraut? A good start.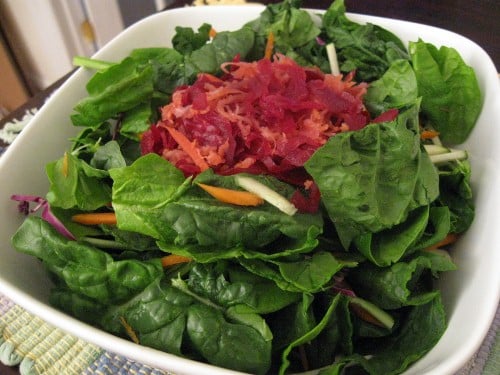 Spinach, ruby kraut, half a cup of leftover quinoa? You're getting closer…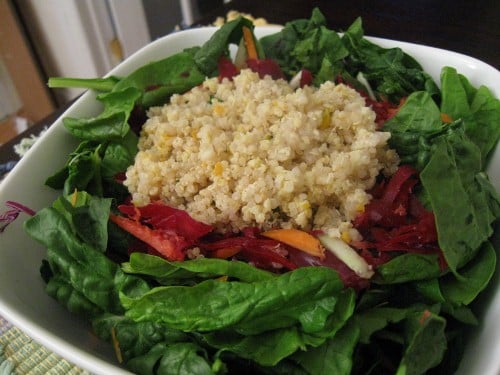 Spinach, ruby kraut, quinoa, and leftover kabocha? Almost there!
Spinach, ruby kraut, quinoa, leftover kabocha, and zucchini dressing? We have a winner!!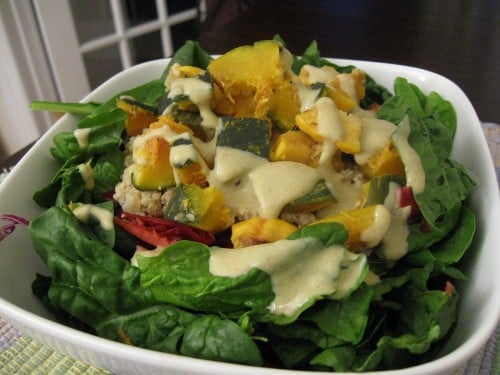 Spinach and broc? Not.
Spinach and broc, seeds and figs? Better.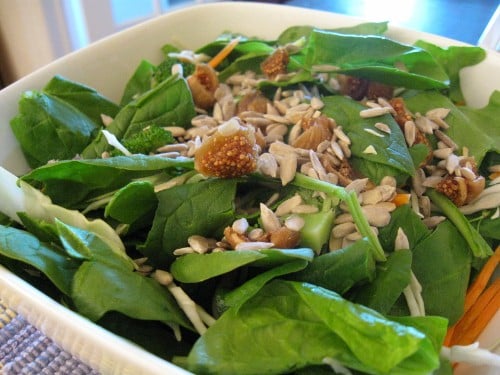 Spinach, broc, seeds + figs, zucchini dressing and zucchini slices with walnut-lentil pate? Genius!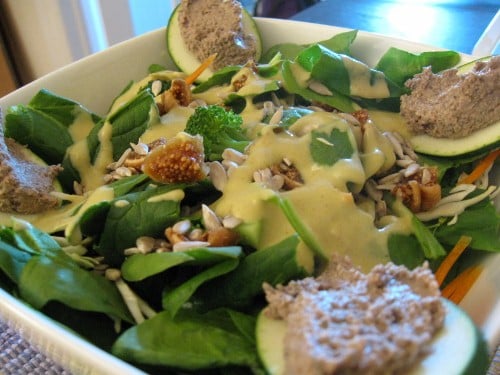 Olive-oil massaged kale salad with veggies? An auspicious start.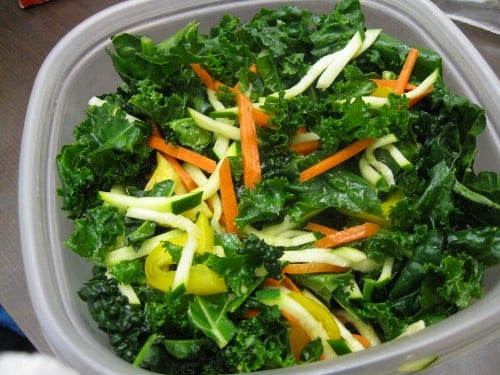 Massaged kale salad with marinated veggies and Lydia's crackers? Nom nom.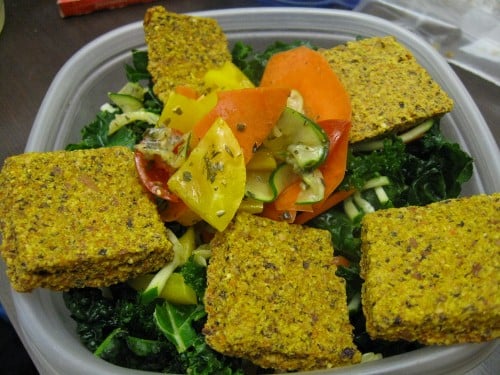 Vinaigrette + baby romaine? Lame.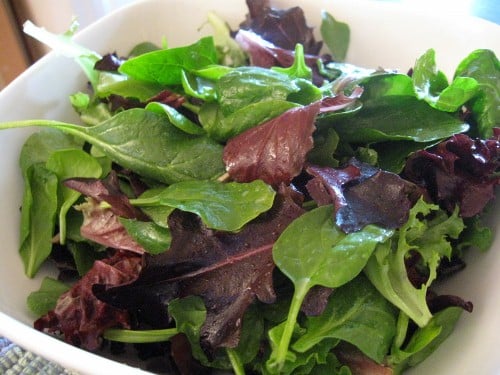 Vinaigrette, baby romaine, and pistachios? Better.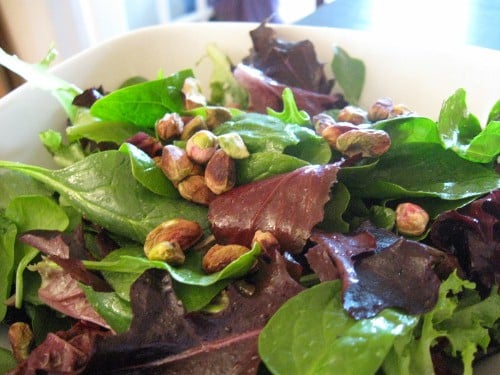 Vinaigrette, baby romaine, pistachios and figs? Almost!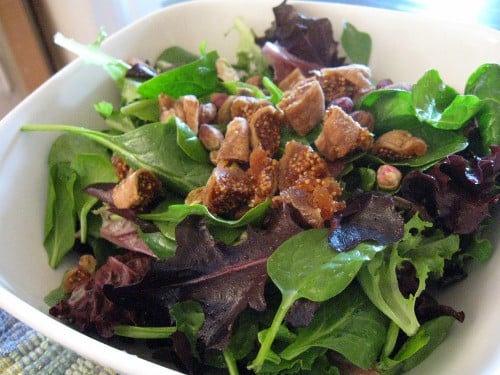 Vinaigrette, baby romaine, pistachios, figs, and carrots + walnut butter? Bon appetit!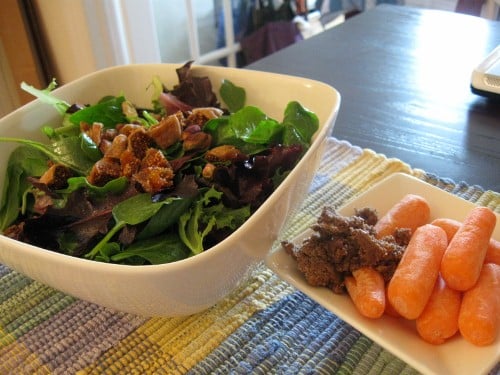 Veggie medley? Nice, but no cigar.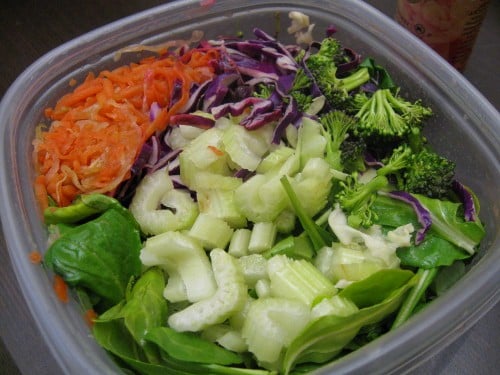 Veggie medley + raw nori bites? Let the games begin.
Veggie medley, raw nori bites, drizzle of flax oil + lemon, and a side of raw almonds? She shoots, she scores!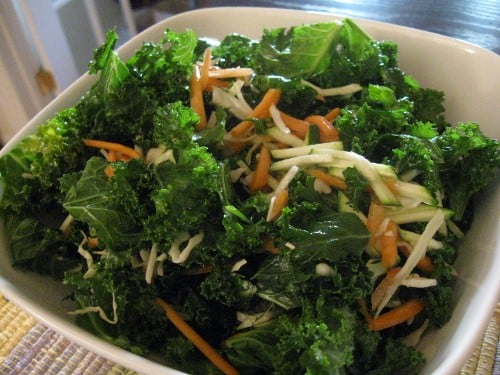 Kale salad + sea veggies? Step 2.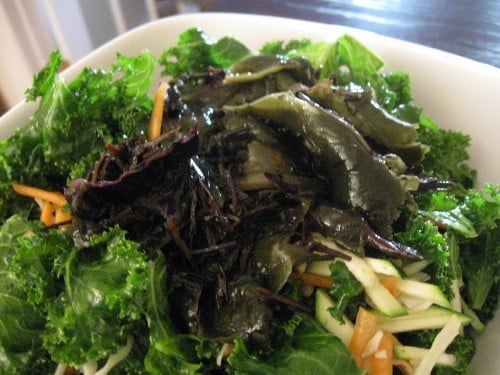 Kale salad + sea veggies + marinated portobello + hempesan? Bingo!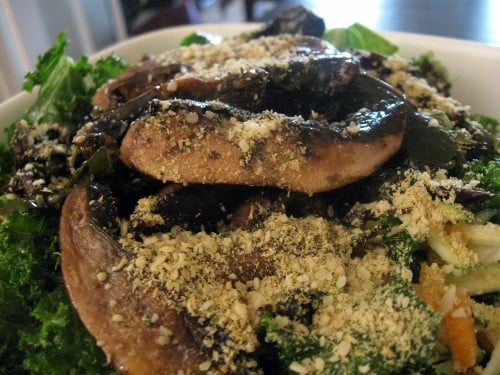 Veggies galore? Needs more.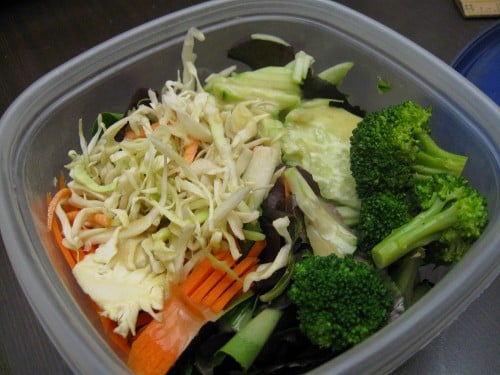 Veggies galore, vinaigrette, and crumbled Larabar? Score!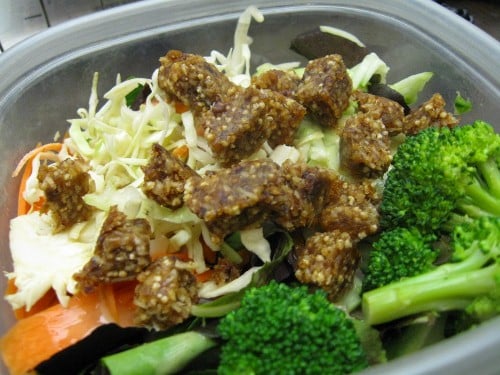 Need other ideas?
How about a big spicy thai salad: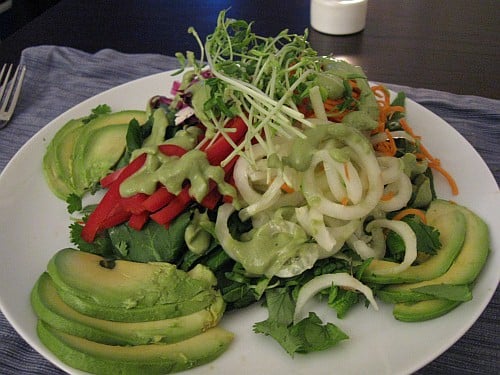 Or a bed of spinach, dressed and topped with my Middle Eastern cauliflower "rice"?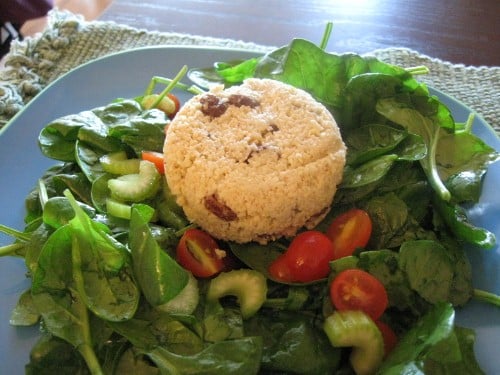 Or dark greens, topped with juice pulp crackers and a giant bed of broccoli hummus?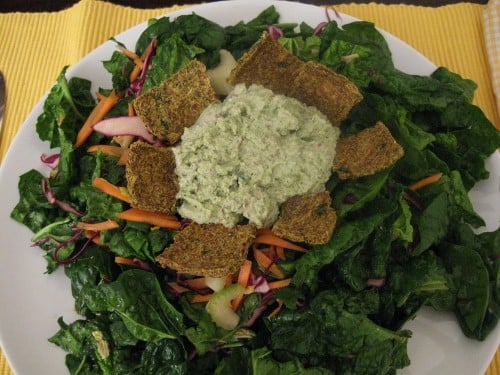 A picture's worth a thousand words.
I hope this little gallery has given you a sense of the rich, nourishing, and filling world of salads, guys! If you've been sitting at your desk or table scratching your head as to why a salad simply can't seem to keep you full, fear not: you are not alone. You are, however, in a position to mix things up. Begin layering your salad with sources of nutrient rich foods, and sources of density. You'll be amazed at how your perception of "a salad" begins to evolve — and your bodies and bellies will be thanking you in the meantime.
Have a great day!
xo