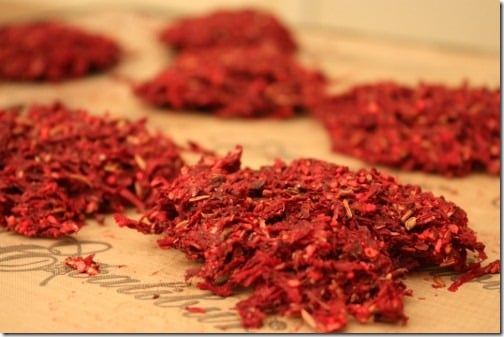 A few days ago, as I herded together some of my recent raw meals, I mentioned that I'd made and immediately liked some raw beet "pancakes." Immediately, you guys were asking for the recipe. Here, without further ado, it is.
First, let me just say why I love these guys. They're less dense than raw burgers tend to be—even less dense than my carrot falafel—but more substantial than, say, juice pulp crackers. Which means they're great for adding bulk to salads, and you can certainly eat them along with other things to give them more heft (I love spreading them with my raw, vegan goat cheese, as you'll see below!). In theory, this is a dehydrator recipe, but you can easily make them in the oven at 200 degrees – I'm not sure how long they'd take, but I'd wager an hour on each side, or less if you heat it to 350. Experiment! And let me know.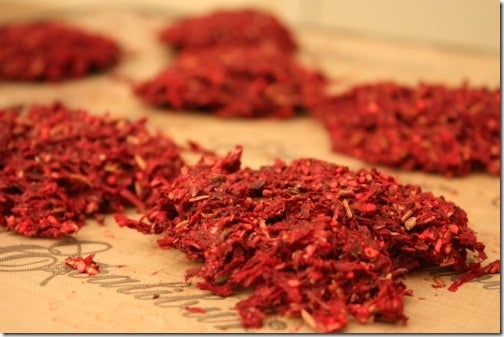 Raw Beet Pancakes (makes about 8)
2 very large beets, shredded and squeezed gently to release some of the moisture
1 large stalk celery, chopped finely
1/3 cup finely ground pistachios or almonds
1/4 cup ground flax seed
1 tbsp dijon mustard
1 tbsp apple cider vinegar
Water as needed
1/4 – 1/2 tsp salt (to taste)
Black pepper to taste
1 tsp onion powder or Herbamare (optional)
1 tsp ground celery seed
1 tbsp caraway seeds
1) Mix the shredded beets, celery, pistachios or almonds, flax, vinegar and mustard in a bowl, using your hands to mix them all well. Add water until the mix is moist and easy to handle, but not total mush.
2) Add all remaining ingredients. Adjust spices to suit your tastes.
3) Shape mix into "pancakes." They'll feel as though they're falling apart. If this seems really likely, add a bit of water, or give them a moment for the flax seed to bind them. Otherwise, just work quickly to shape them into discs (about eight total) and lay them on a lined dehydrator sheet.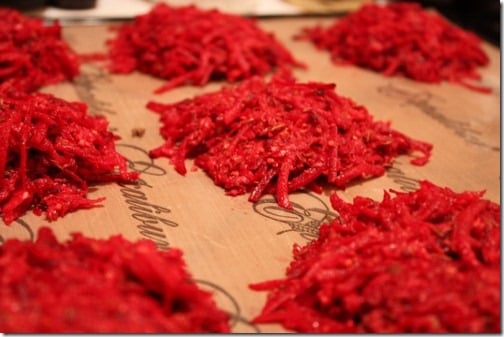 4) Dehydrate for about four hours at 115 degrees. Flip, and dehydrate for another 4-5. They should be pretty crispy when you finish.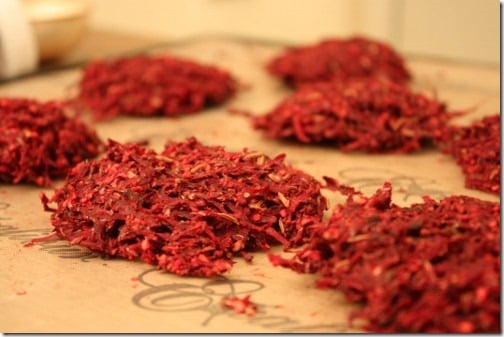 Enjoy!
If you're not into the vinegar or celery seed, go ahead and omit. But adding them reminded me of borscht. And I like being reminded of borscht. So far, my favorite way to enjoy these is, as I said, atop salad (no shock there), and topped with my raw, vegan goat cheese. Beets and goat cheese are one of those ubiquitously popular flavor combinations; this is my all raw, all vegan homage.
Hope you give these guys a shot!
With that, I'm trying to call it a night. See, I have to be up very early tomorrow, to fly westward. Where, you ask? To L.A. for what promises to be a super special food blogging event! It's the Dole Wellness Summit, held at the preposterously scenic Four Seasons Westlake Village, and I'm lucky enough to attend! To sum it up, Dole is giving me and a select group of fellow food and wellness bloggers a behind-the-scenes peek into its business. How does the world's largest provider of fresh fruits and vegetables keep up with the latest nutritional research, and consumer tips? How does it handle the demands of an ever changing—and increasingly eco-and animal-conscious—market? I'll be a happy witness to hands-on culinary competitions, a few meals, and I'll even be getting personal spa and wellness treatments and consultations (for instance, I can't wait to chat with you about my acupuncture appointment). I'll also get to see some of Dole's upcoming product releases, and demos from Dole Fresh Fruit, Dole Fresh Vegetables and Dole Packaged Foods.
Why am I so excited? Because typically, I talk about products and foods that lie pretty far from the norms of food production in this country. We raw foodists and vegans—or, let's simply say we hyper-conscious eaters—often choose to separate ourselves from the corporate food world. There are reasons why this is important, but I also believe that massive change must often start from within large centers of power. So it always pleases me when I hear that companies like Dole are trying to stay on top of shifts in the foodie zeitgeist—especially green shifts. I'm eager to hear about what the company is up to, how they manage to preserve integrity while also catering to a huge consumer base, and to test out some of their new foods. It's been a long time since I've eaten a vegetable or fruit that didn't come in a CSA box or from a farmer's market—or at least from the produce aisle—but if packaging fresh produce is what'll help Americans to eat more of it, I'm certainly willing to try the goods along with them.
Most of all, I'm excited to see a certain good friend of mine.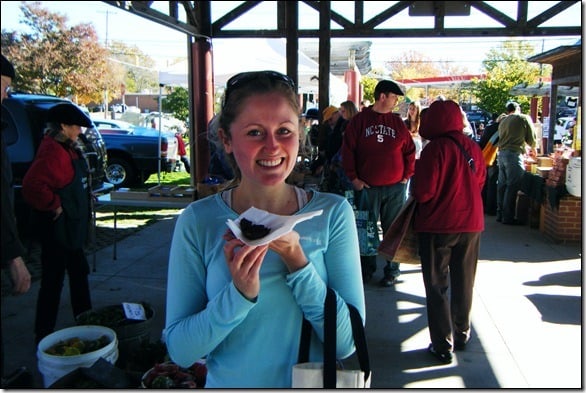 Anne and I experienced what can only be the platonic version of love at first sight the first time we hung out in person (which was at the HLS this summer in Chicago). Maybe it's because we've both spent a fair bit of time editing stuff, and we're both sticklers for good writing. Maybe it's because I love her positive and friendly blog voice. Maybe it's because I admire her nutrition studies, or her commitment and speed as a runner. Or maybe it's just because she'll never stop teasing me about my photo booth shots at the Summit cocktail party. (Anne, for the last time: I was not inebriated. I just looked that way.)
Whatever the case, I heart this sassy lady, and I cannot wait to spend three days in her company. Anne, I'm guessing you have to wake up at 5 am, too. Godspeed to you, my friend.
On that note, I can't wait to catch you guys tomorrow from Cali! Note to LA friends and readers: I'm only there for less than 72 hours, so I won't have any time for blogger meet ups or restaurant dining in the city, alas. Next time.
Away I go…
xo