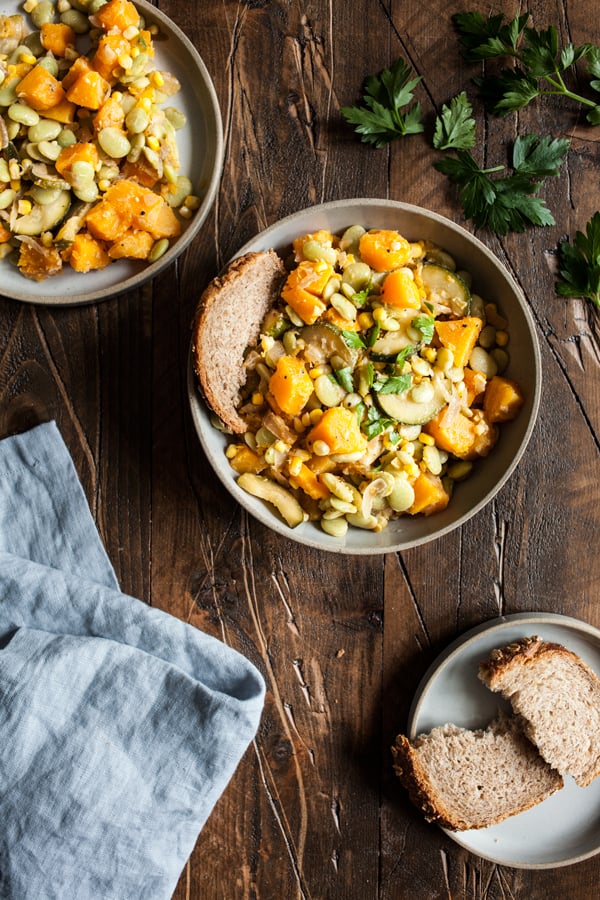 I've always been a little smitten with the word "succotash." It goes in that class of words (along with, I'd argue, skillet, cobbler, casserole, dumpling, ragu, and pie) that seem to evoke warmth, coziness, gathering around the hearth–all that.
In fairness, it's not just the word that gets me. I'm also very partial to the real-life dish. Succotash is one of those meals that's all the better because it's so very simple, a tribute to fresh ingredients no matter what produce you use. I typically make the dish with tomato and zucchini, as a way to savor the end-of-summer bounty each year, but lately I've been thinking how nice it would be to try an autumn lima bean and butternut squash succotash. It is even better than I thought it would be.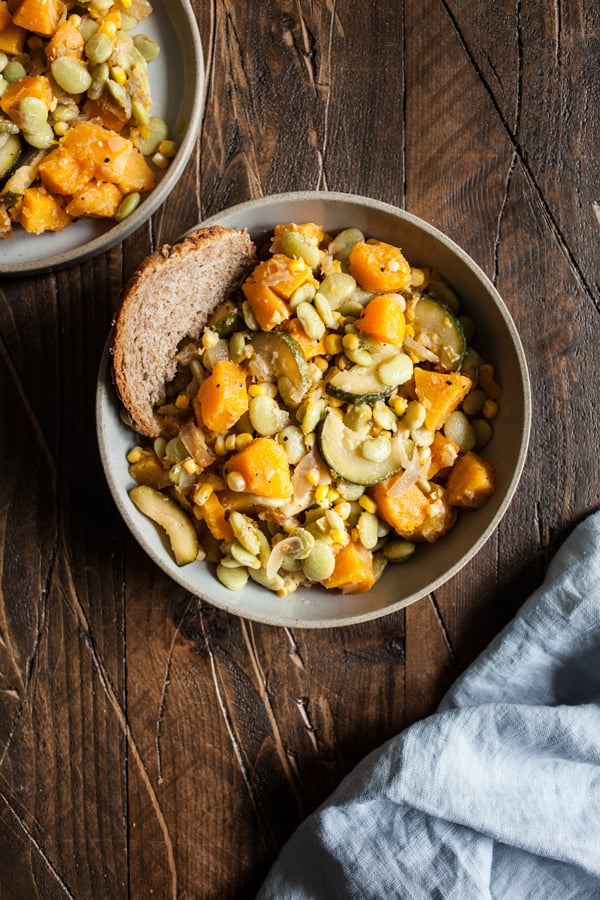 If you're on the hunt for easy, one-skillet meals, this one is worth a try. You do need to steam the butternut squash beforehand, but after that, you simply cook everything together in the biggest sauté pan you have. I'm giving options to use both dry, baby lima beans and frozen limas; the picture you see is of the dish with frozen limas, which make the cooking time for the whole dish very fast. But I've tried succotash with soaked and home-cooked lima beans, too, and it's also delightful.
Funnily enough, I don't share the aversion that many people have to lima beans, even though I'm pretty sure I was given the same ones in childhood that most of us remember with a grimace (frozen limas, tossed with butter and salt). I always liked the starchiness and the mild sweetness of the beans; I only wish I'd tasted them (and other legumes) prepared in a greater variety of ways.
In any case, I'm happy to be featuring a bean that I don't use very often in this recipe. And speaking of the wide world of beans, this is a good moment to mention that this recipe is a new contribution to the Pulse Pledge initiative–a movement that celebrates the UN's recognition of pulses as a sustainable, economical, and nutritious protein source. As regular readers know by now, the Pulse Pledge encourages everyone to commit to eating pulses at least once a week for 10 weeks. The Pulse Pledge website contains tons of recipes from food bloggers who are excited about showing off the versatility of pulses in their cooking. The list is growing every day, and it's worth taking a look if you're hungry for more plant-based inspiration!
If you don't have lima beans on hand–or if childhood memory is enough to make you squeamish about them–you can use essentially any cooked bean you like. I'd probably substitute pinto beans, black eyed peas, or kidney beans, but I think chickpeas would be great, too. As you'll see, this is a very low key and adaptable meal.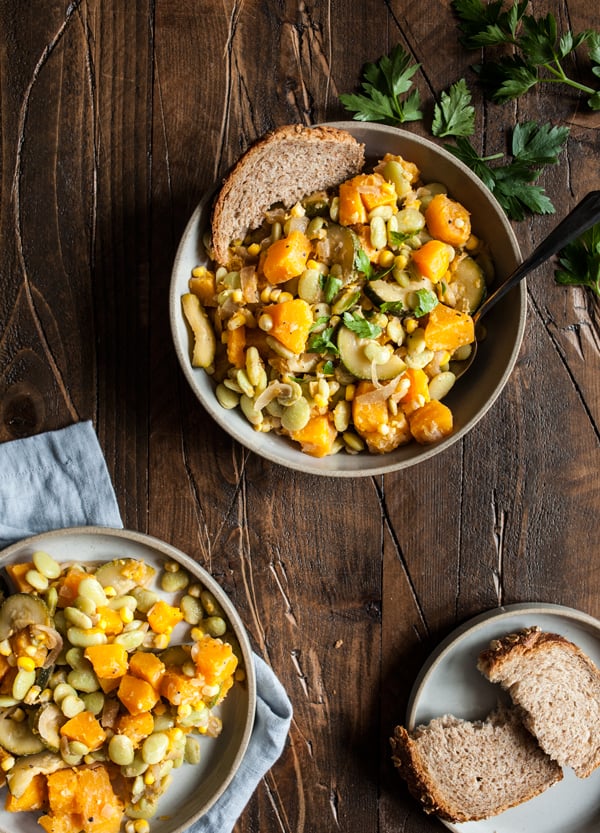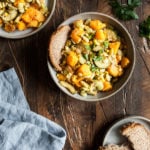 Autumn Lima Bean and Butternut Squash Succotash
Author -
1

pound

butternut squash

peeled, seeded, and cut into 3/4-inch cubes (about 1 small squash, after preparation)

2

tablespoons

olive oil or vegan butter

1

white or yellow onion

diced

2

shallots

thinly sliced

1

large or 2 small zucchini

halved lengthwise and cut into half moons about 1/4-inch thick

3

medium sized ears corn

kernels removed (about 1 heaping cup kernels)

3

cups

cooked lima beans

defrosted or prepared from dry beans--see note below

2

tablespoons

chopped fresh parsley

2

teaspoons

fresh thyme

2

tablespoons

lemon juice

Salt and freshly ground black pepper to taste

For serving: Cooked rice

millet, barley, quinoa, or whole grain toast
Bring a pot of water to boil and fit it with a steamer attachment (or a large sieve). Steam the butternut squash till it's fork tender but not mushy (about 8-10 minutes).

Heat one tablespoon of the oil or butter in a large skillet or saute pan over medium heat. Add the onions and shallot. Cook, stirring every now and then, for 5 minutes, or until the onion is clear and tender. add the zucchini and corn. Cook for 5-6 minutes, or until the zucchini is tender. Stir in the butternut squash, beans, herbs, and lemon. Stir in the remaining tablespoon butter or oil.

Taste the succotash and add salt and pepper to your liking. Serve with a cooked whole grain or toast.
To prepare lima beans from scratch, soak 1 cup baby lima beans overnight. The following day, drain and rinse the beans. Add them to a pot with enough fresh water to cover them by 3-4 inches. Bring them to a boil, then reduce heat to low. Simmer for 60 minutes, or until the beans are tender. Drain any remaining liquid from the beans, which will now be ready to use.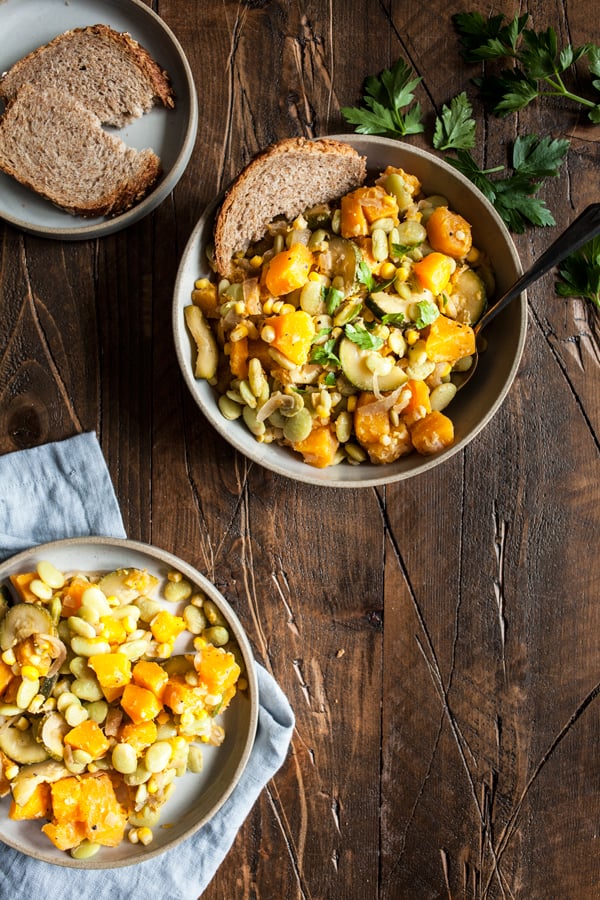 The succotash is especially lovely served with millet or quinoa, but I have to admit that more often or not I like to simply scoop it over a few grainy, wholesome slices of toast. It's such a comfort when food this simple can taste so good, and be so satisfying.
Hope you'll enjoy the recipe soon! Note that in pace of the butternut, you can use another cubed winter squash (like kabocha or delicata), or you can try the recipe with sweet potatoes instead. (I haven't done that yet, but it sounds like a really good idea to me.) The weather has been in the low sixties for a few days now, dipping even into the high fifties at night, and so it seems fall is finally here. I'm very ready to enjoy my favorite season of food.
xo
This post was created in partnership with the USA Pulses and Pulse Canada. Opinions are my own. Thank you for your support, and I can't wait to share more pulse recipes with you this fall! To learn more about the Pulse Pledge, visit www.pulsepledge.com.