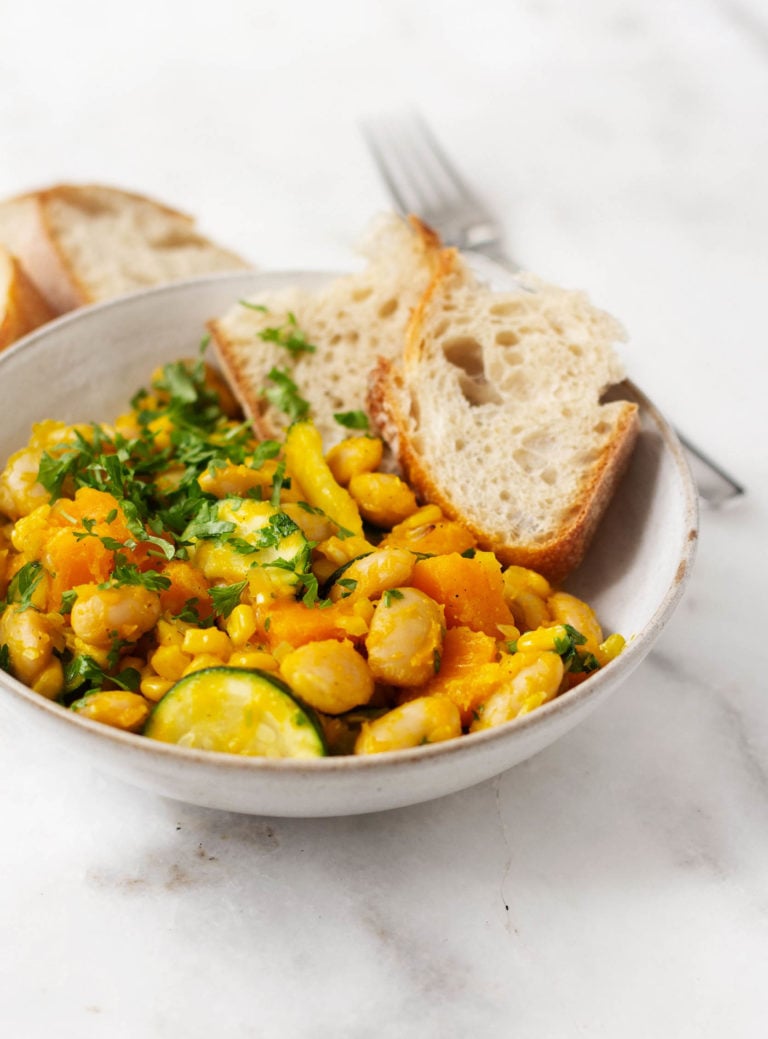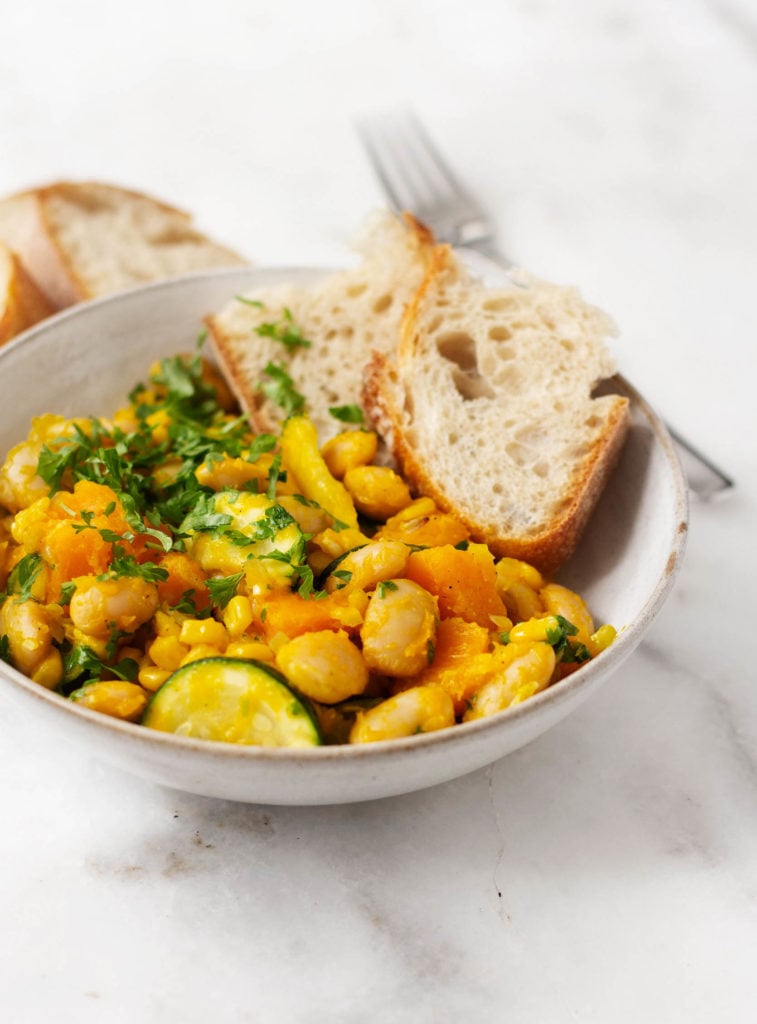 This vegan lima bean butternut succotash is a simple, nutritious side dish for all of your autumn suppers. It comes together quickly and can be modified based on what you have.
This version features lima beans and butternut squash. The squash lends a hint of sweetness to the dish and helps to make it nice and filling. The lima beans are packed with nutrition, including protein, fiber, and folate. This easy side dish is yet another great way to show off the superstar properties of pulses.
All about succotash
I've always loved the word "succotash," which just seems to evoke coziness. But what is a succotash, exactly?
David Tanis claims that it can be "the most marvelous vegetable stew imaginable." He explains that succotash is a Native American dish that usually consists of corn, shelling beans or dried beans, and squash. According to Wikipedia, corned beef, potatoes, salt pork, and tomatoes are other common additions. Sometimes okra is included, as in Jocelyn's vibrant recipe.
While I don't have a family recipe for succotash, let alone a deep understanding of the dish's origins, I do understand that it's the kind of dish that probably varies between regions and homes. I love recipes like this, which take on meaning through the people who make and share them.
I'm also partial to the dish, or to the versions I've tried! I typically make it with tomato, as a way to savor the end-of-summer bounty each year. But lately I've been thinking about a more autumnal version, which is really how this lima bean butternut succotash came about.
Lima bean butternut succotash ingredients
If you're on the hunt for one-skillet meals, this lima bean butternut succotash is worth a try. You do need to steam the butternut squash beforehand, but after that, you simply cook everything together in the biggest sauté pan you have. Here are the ingredients you'll need.
Lima beans
You have the option to use either dry, baby lima beans or frozen limas. I most often use the frozen lima beans for convenience. Frozen lima beans happened to be the ones that my mom served when I was a kid. Unlike other adults, I remember them pretty fondly! I was a fan of pulses from the start, lima beans included.
Butternut squash
I used fresh, peeled and cut butternut squash in the recipe. If you prefer, you can use acorn or delicata squash as well. If you're in a time crunch, try purchasing pre-peeled and cut squash for ease.
Vegan butter
The recipe calls for either olive oil or vegan butter as a fat source. Honestly, I think vegan butter is the more flavorful choice! There are many brands available now; you can checkout this roundup for some options.
Corn
Late August and early September are my favorite time of year to eat sweet corn on and in everything! I gobble it up in zucchini corn pasta, throw it into potato corn chowder, and use it to make Texas caviar.
If you're lucky enough to have fresh, sweet corn kernels, then I definitely recommend using them in the dish. If you've got frozen or canned, that's perfectly OK, too.
Herbs
I've seen tarragon, parsley, thyme, and basil called for in succotash recipes. In the end, I chose parsley and basil. They're probably my two favorite fresh herbs, and I love using them together in summer recipes.
Take the pulse pledge!
I'm happy to be featuring a bean (lima beans) that I don't use very often in this recipe. And speaking of the wide world of beans, this is my new contribution to the Pulse Pledge initiative! This movement celebrates the UN's recognition of pulses as a sustainable protein source.
The Pulse Pledge encourages everyone to commit to eating pulses at least once a week for 10 weeks. The Pulse Pledge website contains tons of recipes from food bloggers love pulses as much as I do. Some of my own contributions include roasted carrot lentil tacos, millet and black lentil stuffed delicata squash, and protein backed bean quinoa salad. 
And now, this delightful lima bean butternut succotash.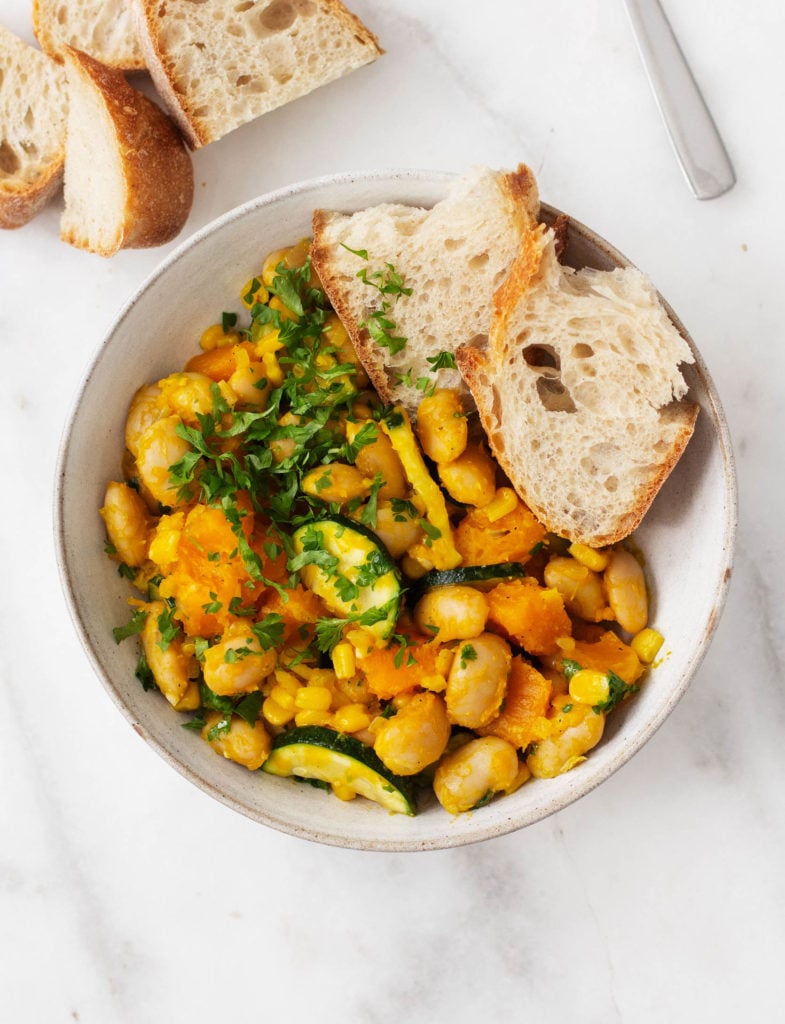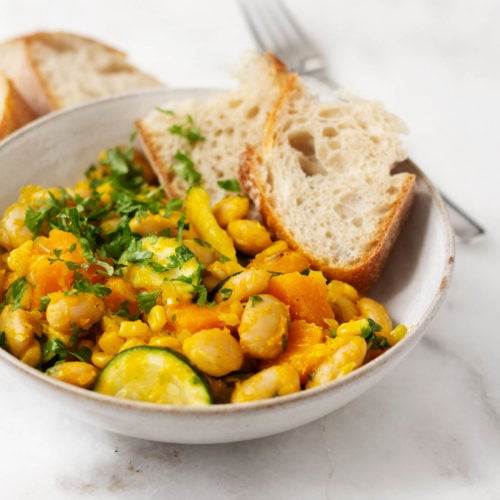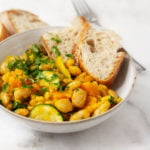 Autumn Lima Bean and Butternut Squash Succotash
Author -
1

pound

butternut squash, peeled, seeded, and cut into 3/4-inch cubes (about 1 small squash, after preparation)

2

tablespoons

vegan butter or olive oil

1

white or yellow onion, diced

1

large or 2 small zucchini, halved lengthwise and cut into half moons about 1/4-inch thick

1 1/2

cups

corn kernels (about 3 medium sized ears of corn)

3

cups

cooked lima beans, defrosted or prepared from dry beans (see note below)

2

tablespoons

chopped fresh parsley

2

tablespoons

chopped fresh basil

2

tablespoons

lemon juice

Salt and freshly ground black pepper to taste

For serving: Cooked rice, millet, barley, quinoa, or whole grain toast
To prepare lima beans from scratch, soak 1 cup baby lima beans overnight. The following day, drain and rinse the beans. Add them to a pot with enough fresh water to cover them by 3-4 inches. Bring them to a boil, then reduce heat to low. Simmer for 60 minutes, or until the beans are tender. Drain any remaining liquid from the beans, which will now be ready to use.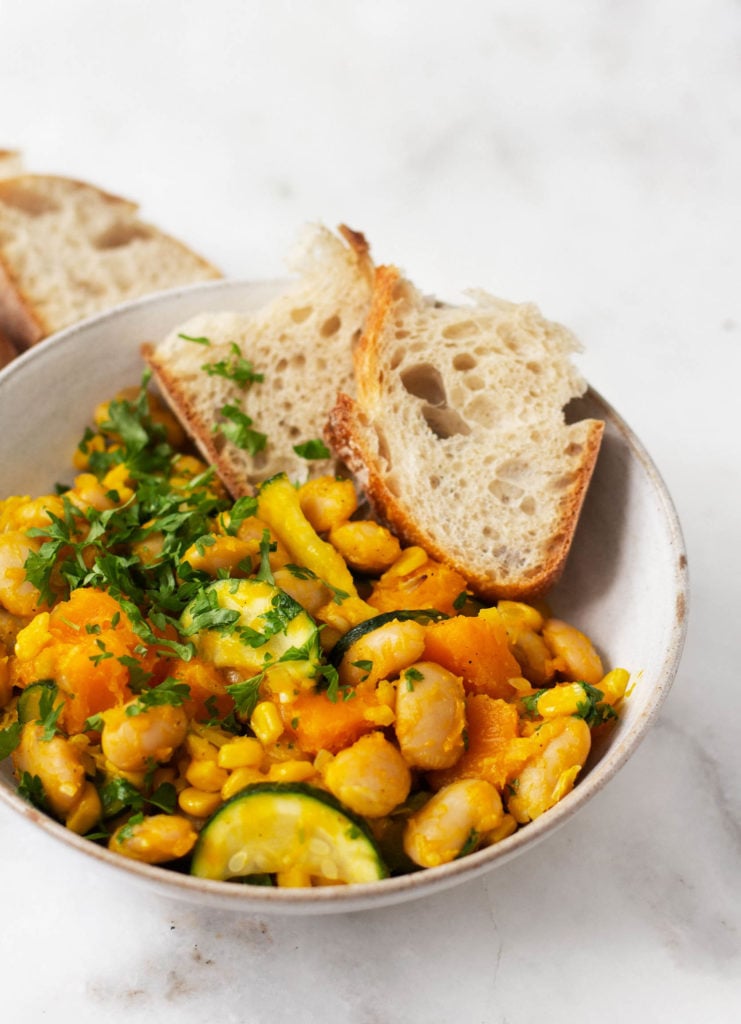 The succotash is especially lovely served with millet or quinoa. But more often or not, I simply scoop it over a slice or two of toast. It's such a comfort when food this simple can taste so good.
Hope you'll enjoy the recipe soon! The weather has been in the low sixties for a few days now, dipping even into the high fifties at night, and so it seems fall is finally here. I'm very ready to enjoy my favorite season of food.
xo
This post was created in partnership with the USA Pulses and Pulse Canada. Opinions are my own. Thank you for your support, and I can't wait to share more pulse recipes with you this fall! To learn more about the Pulse Pledge, visit www.pulsepledge.com.