I'm so glad there's so much enthusiasm over Lulu's Chocolate! The deal is still up on Vegan Cuts, so do stop by and take advantage soon if you haven't already.
Doesn't the photo above just scream "autumn?" OK, well, to me it does. This may not be apple pie or pumpkin soup, but it sure does take advantage of some of the season's best produce (fresh apples and purple cabbage), and it marries them with the bite of a little ginger. A quick, easy, and satisfying lunch roll!
This roll would work just as well with some collard leaves in place of the nori (nori is my latest obsession, but it's not the only way to make this recipe work) or even some romaine leaves. It would taste great with a wide variety of nut pates or dips (I think my zesty orange cashew cheese would be great) and hummus (like my sweet potato hummus) would be a great substitute if you're allergic to tree nuts or seeds, or if you want a lower fat/higher protein version.
The sunflower and ginger pate I use here is very simple. Feel free to embellish with spices, chopped vegetables, or even some dried fruit.
Super-Simple Gingery Sunflower Seed Pate (raw, vegan, gluten free)
Makes about 1 1/4 cups
1 cup sunflower seeds, soaked 2 hours or more
1 tsp ginger powder OR 2 tsp minced fresh ginger
2 tbsp Bragg's Liquid Aminos (or nama shoyu or tamari)
Juice of half a lemon
2/3 cup water
Combine the first four ingredients in a food processor and combine well. Scrape the sides of the bowl, run the motor, and add the water until the pate reaches the consistency you like. Depending on how long you soaked the seeds, you may need less water or more than 2/3 cup.
For the rolls, you'll want:
2 sheets nori
4 large romaine leaves
1/2 cup shredded purple cabbage
1 shredded carrot
1 small gala, Fuji, cameo, or other seasonal, organic apple!
Cut the vein out of the romaine leaves. Layer about 2-3 tbsp of the pate along the bottom third of the nori sheet. Place the romaine on top, and then pile it high with half of the veggies and apple. Roll the sheet up from the bottom, seal edges with water, and repeat with the other nori sheet.
And voila!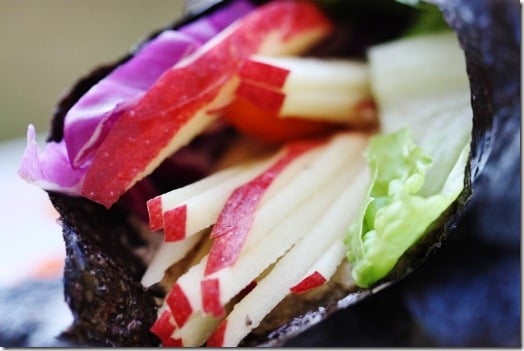 Check out all of that crisp, fresh, seasonal goodness. Oh, how I love apples!
Serving suggestions: I'd pair this with a big salad and about a half cup of lentils or beans. It would also work nicely with some steamed or raw broccoli and some of my cheesy sauce, or with a cup of autumnal soup (I'm really into my raw butternut squash and apple right now; I'm also a fan of my cauliflower and parsnip soup with cashew cream).
Note that when I give serving suggestions like the above, it's to help you figure out what to do with raw meal components! Many new raw foodists don't really know how to add bulk to some of their lighter culinary creations, or how to create a "full meal" from something like a collard wrap. That's what I'm here for
Before I go, I want to draw special attention to a post that touched me yesterday. This year, fellow blogger Susan of The Great Balancing Act was diagnosed with
Hodgkin's Lymphoma, a cancer of the lympathic system that is treatable through chemotherapy. Susan is currently going through her rounds of chemo, and she is doing it with grace, humor, and wisdom. I couldn't be more impressed with her attitude: having seen my own mother through chemo, and now that I watch dozens of children experience it daily as a pediatric hospital volunteer, I know well how much energy and courage it takes to remain positive throughout the process.
Susan's blog, like many blogs, began as a weight loss/healthy living blog. Two days ago, she shared a few words on how illness, chemotherapy, and recovery have impacted her weight and her attitude toward her weight. I like to think that my blog is all about the intersections between health and body image, and for that reason, I encourage my readers to check the post out. It's a wonderful reminder to all of us that we're lucky to inhabit the bodies we like to fret over. As I move closer toward the dream of a career in health care, I'm ever more aware of how precious good health is. This makes me more committed to the lifestyle choices that matter to me, but it also makes me appreciate the sheer good fortune of having food to eat, and senses with which to savor it.
Thanks, Susan, for the perspective!
xo