It's been far too long since I shared a hummus recipe. I love hummus so much that an entire section of my recipe section is devoted to the stuff, but I've been neglecting to come up with anything new. Fortunately, I'm making up for lost time with one of the best hummus recipes I've made (or eaten) in a while. I made it on Sunday, and nearly all of it is gone.
The star of this hummus recipe is, of course, roasted carrots. Roasted carrots are one of my favorite things (check out my roasted carrot and avocado salad for more evidence of this love affair), so it almost feels wrong to throw them into a food processor and blend them into hummus. But, having made an enormous tray of them over the weekend, I figured I could spare a few. And I'm so glad that I did, because the subtle flavor and color that they add to this hummus recipe is truly special.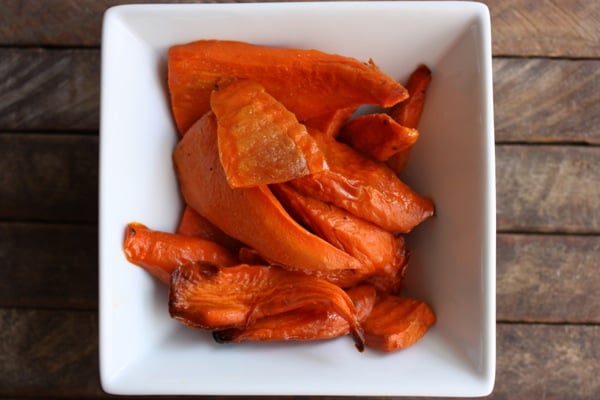 You can make this hummus in either a Vitamix or a food processor. If you'd prefer to use raw carrots to cooked (i.e., if you don't feel like roasting carrots just to place them in a batch of hummus), that's fine. Shred them finely if you use your food processor for this; the Vitamix can certainly handle raw carrots, even if they're not so finely shredded! And you'll want to reduce the amount to 2 or 3 carrots, since roasted carrots shrink a little.
Roasted Carrot Hummus
Author -
4

large carrots

roughly chopped

2

tablespoons

olive oil

Sea salt or kosher salt and black pepper to taste

1 1/2 - 2

cups

chickpeas

cooked (homemade is preferable, but canned is A-OK)

1/4

cup

tahini

1

teaspoon

cumin

1

teaspoon

paprika

1

clove

garlic

roughly chopped

2

tablespoons

lemon juice

1

tablespoon

olive oil

for drizzling (optional)
1. Preheat the oven to 400F. Toss the carrots with the olive oil, salt, and pepper. Place them on a baking sheet and roast for 20 minutes, or until tender and browning along the edges.

2. Place the chickpeas in a food processor or Vitamix along with the carrots, olive oil, salt and pepper, tahini, cumin, paprika, garlic, and lemon juice. Pulse a few times to break it all down. Turn the motor on and drizzle in 1/2-2/3 cup water slowly, stopping often to scrape the container down. Use your judgment on how much water to add; I used 2/3 cup, but less might be sufficient to obtain a creamy texture.

3. When the hummus is perfectly smooth, transfer it to a serving dish and drizzle a tablespoon of olive oil over it. Serve.
I love the color of this hummus. Such a nice departure from the traditional recipe, or the delicious, but oft-used red pepper variety.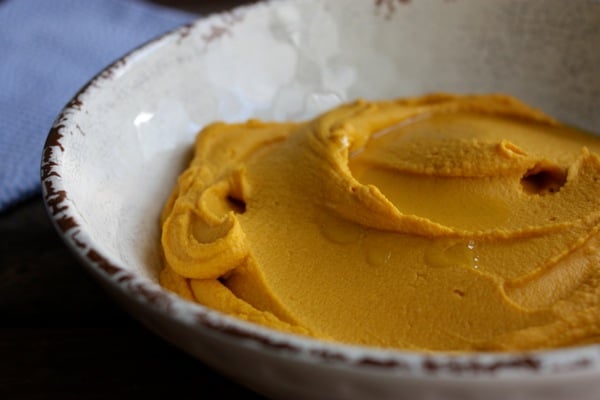 For a long time, sweet potato hummus has been my autumnal standard, but this recipe is definitely inspiring me to consider other root veggies: butternut squash, parsnip, and so on. So excited that squash season has arrived.
For more hummus inspiration, check out all of my other veggie hummus recipes (beet, broccoli, and and peas all make appearances!). I hope you're all enjoying your start of the work week, and I'll see you back here soon.
xo