Have you ever tried to convince somebody that salad can be a meal? Not a side dish, not a garnish, not a appetizer, but a meal. Dinner, served. It's not always easy: here in the CR universe, salads are the stuff of feasts. But to many people, the word "salad" signifies nothing but greens, a drizzle of oil, and a watery vegetable or two. And given the mediocrity of your typical mesclun salad appetizer in a restaurant, can you really blame them?
I love salad. It's my favorite meal by far, and for so many reasons: it's versatile. It's nutrient dense. It's fresh. It's crisp. It's usually at least semi-raw, if not all raw. It's a blank canvas, a vehicle for countless flavors and textures. And, if you shop for your produce wisely, it can be a very quick, easy, and economical dinner.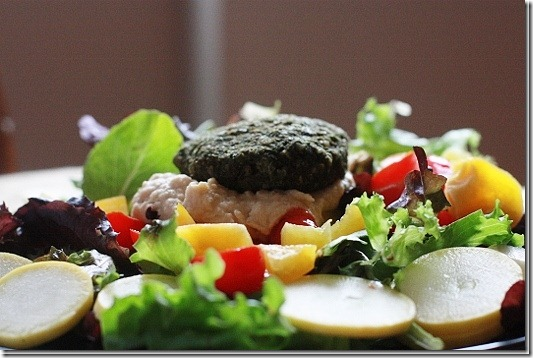 Sharing my passion for greens with the universe means showing friends, family, and readers that there's nothing puny about a great salad. With a little creativity, it's easy to build a meal-sized salad. And once you get into the habit of piling your salads high with healthy sources of fat, protein, and complex carbohydrates—not to mention exquisite piles of fresh, raw vegetables—you'll never relegate salad to an appetizer plate again.
Last night's dinner salad was a perfect example of just how satisfying a salad can be. It was inspired heavily by the wonderful "Aztec Salad" at Candle Café, my spiritual home on the Upper East Side. That salad is a mix of quinoa, corn, black beans, red onion, cumin dressing, seared tempeh, and greens: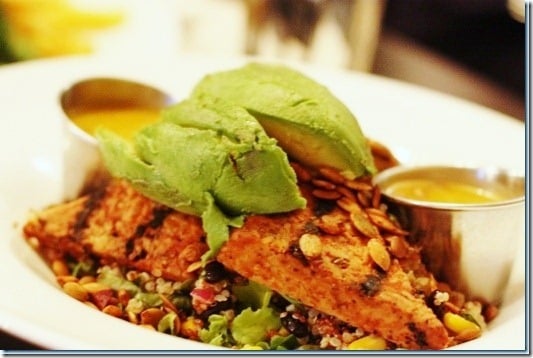 Still enchanted with last week's quinoa and black bean salad with quick cumin vinaigrette, I decided to make a few modifications, to add some scrumptious (and filling) seared tempeh, and to top it all with a thick heap of fresh avocado. The overall effect was a perfect tribute to the Candle salad I love so much!
Quinoa and Bean Salad with Spicy Seared Tempeh and Cumin Vinaigrette (Vegan, Gluten Free)
Serves 4
For quinoa salad:
1 cup dry quinoa, rinsed
Dash salt
1/2 large cucumber, diced neatly
1 small bell pepper, diced neatly
1/3 cup cherry tomatoes, quartered
1 can BPA free, organic black or kidney beans
10-15 basil leaves, chopped into a chiffonade
1/4 cup fresh cilantro, chopped
For the spicy tempeh+marinade:
Juice of 6 small (or 4 large) limes
1 tbsp olive oil
1 tbsp maple syrup or agave
1-2 tbsp tamari (or to taste)
5 shakes (or more) Tobasco sauce (don't fear some spice in this marinade!)
1/2 tsp chili powder
2 packages (about 16 oz) tempeh
For the vinaigrette:
1/2 cup extra virgin olive oil
1/2 cup apple cider vinegar
2 tbsp lime juice
2 tbsp agave or maple syrup
1 tbsp dijon mustard
1 tbsp cumin
Salt and pepper to taste
To serve:
6 cups mesclun greens or baby spinach
2 large avocados
1) Cook quinoa in salted water till tender and fluffy (use a rice cooker or the package instructions).
2) While the quinoa cooks: in a large, shallow bowl, whisk together all of the tempeh marinade ingredients. Cut the tempeh into 12 square pieces (I like mine thin) and submerge them in the marinade.
3) When the quinoa is ready, add chopped vegetables, black beans, and herbs to the cooked grain, and toss. Whisk together the vinaigrette ingredients, and pour about 1/2 cup over the quinoa, beans, and veggies. (If you don't feel that you need all the dressing, just add as much as you'd like to.) Toss it all together.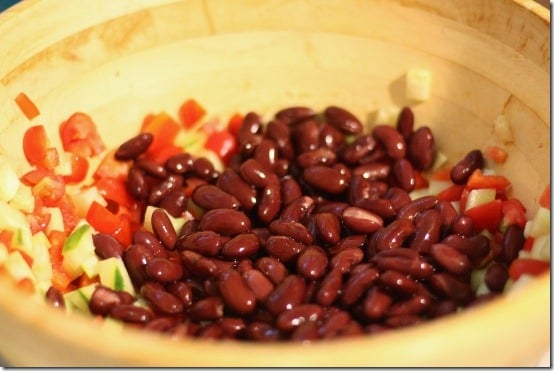 4) Heat a skillet or frying pan with coconut oil spray or about a teaspoon of coconut oil. Over medium heat, sear the tempeh on both sides till nice and crispy. Brush with marinade as you go along.
5) Pile 2 cups mesclun greens on each plate. Pile it high with a heaping cup of the quinoa and bean salad. Stack 3 thick pieces of the seared tempeh on top, and then top each plate with 1/2 a sliced avocado. Drizzle more vinaigrette over each plate if desired, and serve to your (satisfied) guests!
This spectacular summer meal will satisfy all kinds of eaters: vegan, omni, health freaks, and foodies alike. And as you watch your guests like the plate, give yourself a pat on the back for having put salad at the center of everyone's dinner plate.
What's your favorite meal-as-salad? How do you sell salad to non-salad lovers?
xo