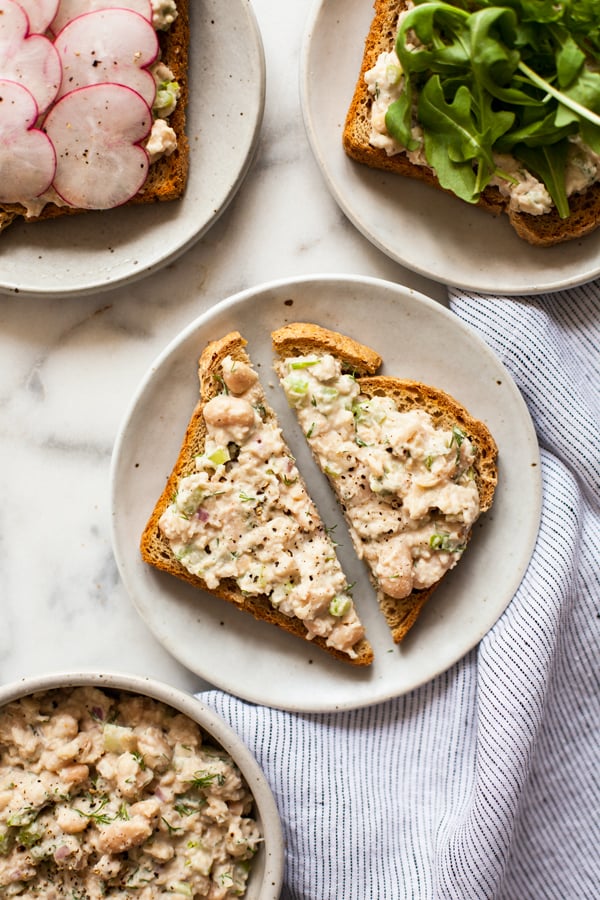 This light, bright, and supremely flavorful smashed garlic tahini white bean salad is the perfect toast, sandwich, wrap, or salad topper for spring. It has it all: protein-packed white beans, crunchy celery and shallot, a burst of lemon, the freshness of dill, and–to top it all off–a creamy, garlicky tahini dressing that brings it all together.
I'm in love.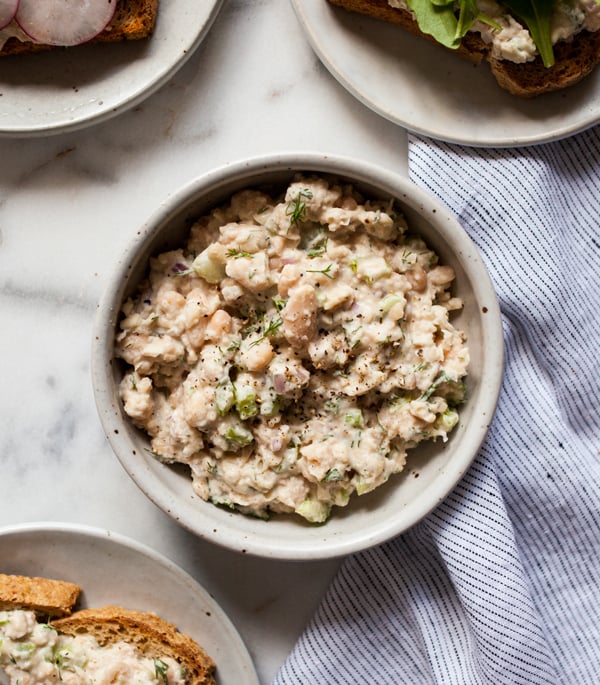 The salad was inspired by the smothered garlicky white beans I made for my Food52 column in the fall. I loved that recipe, but because the beans get soaked and cooked from scratch, it's not something you can throw together spontaneously (especially not if you give your beans an overnight soak before cooking them).
This recipe is. If you have a can of great northern, cannellini, or navy beans in the pantry and a head of garlic lying around, then you can pull it together easily. If you'd like to scratch cook a pot of beans and put them to use in the recipe, that's great, but the salad has tons of flavor whether you soak and boil the beans or not, thanks to the garlicky, lemony, and altogether delicious dressing.
As I've mentioned, 2016 is the International Year of Pulses, and I've been welcoming blog readers to take the Pulse Pledge with me. This is a commitment to eating pulses at least 10 weeks as part of a global movement to celebrate this versatile, sustainable protein source. It's not a hard challenge for plant based eaters, and versatile legume salads like this one make it all the easier.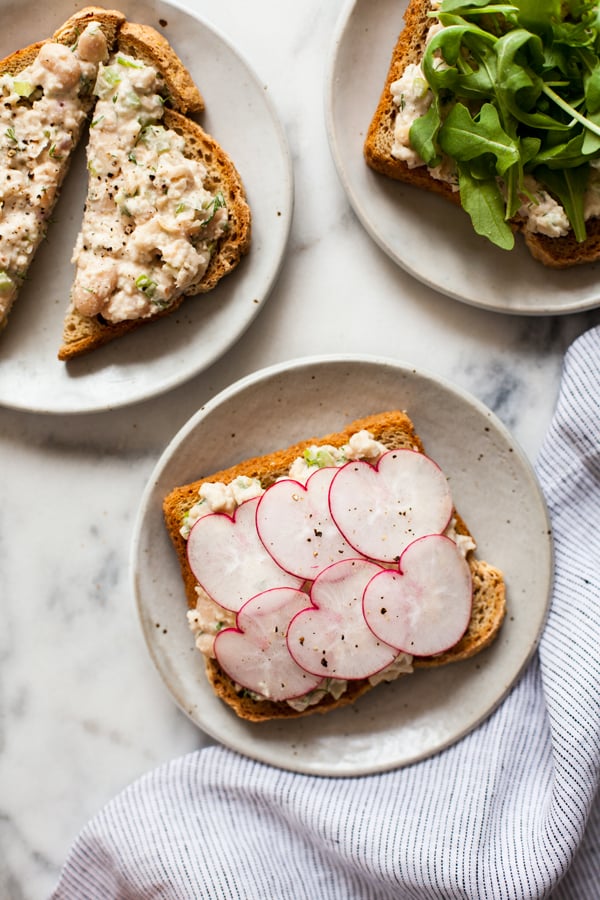 You can keep things simple and serve the smashed white bean salad on toast for an easy breakfast or lunch. You can also get festive and top it with some of your favorite spring vegetables, including steamed asparagus tips or spears, marinated artichoke hearts, arugula, tender microgreens, or crispy radish slices. I was lucky enough to have some local radishes at home that just so happened to be adorably heart-shaped. I loved the contrast of the creamy beans and the peppery radish!
I added fresh dill to the salad in part because it's just now coming into season, and in part because I love it. I know that dill's an acquired taste, though, so if it's not your thing, no big deal. Pretty much any fresh herb, from parsley to basil to tarragon, will be lovely, so long as it's a flavor you like. Dried herbs will work in a pinch, too, as will green onion tops.
Enough talk: here's the irresistible recipe!
Smashed Garlic Tahini White Bean Salad on Toast
Author -
Yields:
2
1/2 cups, or 4-5 servings
1

whole head garlic

top sliced off crosswise

1

teaspoon

olive oil

optional

1/4

cup

tahini

1/3

cup

water

Juice of 1 lemon

2-3 tablespoons

1

teaspoon

Dijon mustard

3/4

teaspoon

salt

1/4

teaspoon

freshly ground black pepper

3

cups

cooked cannellini

great northern, or navy beans (or 2 cans white beans, drained and rinsed)

1

large or 2 small stalks celery

finely chopped

2

tablespoons

minced shallots

substitute green onion

1/4

cup

loosely chopped

fresh dill (substitute 2 tablespoons dried dill, or you can try another herb of choice)

Optional toppings: sliced radish or avocado

marinated artichoke hearts, arugula or other greens, sprouts, etc.
Preheat the oven to 375F. Rub the teaspoon of olive oil over the exposed garlic cloves. Wrap the whole head of garlic in foil and place on a baking sheet. Roast for 35-40 minutes, or until the head of garlic is very soft and the cloves are lightly golden. (You can skip the oil, but the cloves may be a little harder to squeeze out of their skins.)

Place the tahini, water, lemon, mustard, salt, and pepper in a blender or food processor. Squeeze all of the cloves of garlic from the roasted head into the blender. Blend the ingredients on high till creamy and smooth.

Place the beans, celery, shallot, and dill in a mixing bowl. Add about three quarters of the dressing (you may want to hold off on using all of it until you mix up the salad and see whether you'd like to use more). Use a potato masher or fork to mash the dressing up with the beans and to smash about half of the white beans (you want half of them to stay whole). Taste the salad, add more dressing as needed, and season to taste with salt and freshly ground pepper.

Spread the salad on toast and top with toppings of choice. Serve.
Leftover salad will keep in an airtight container in the fridge for up to 4 days.
A quick word about roasting the garlic: if you're really pressed for time, feel free to use 2 raw cloves in place of all the roasted cloves. I personally think that the roasted garlic is sweeter and has more depth of flavor, and I suspect that you'll agree, so the roasting time is worth it if you can make it work. (It's also a good option for those of you who don't love raw garlic, but do love the flavor of cooked garlic!)
I hope you'll give the recipe a try, because it is–I promise–really special. And so versatile. Whether you enjoy it scooped on top of a salad, in your next vegan lunch bowl, or on toast as pictured, it'll add springtime flavor to your next meal.
Enjoy, and I'll see you on Thursday with an easy weeknight dinner idea!
xo
This post was created in partnership with the USA Dry Pea & Lentil Council. Opinions are my own. Thank you for your support, and I can't wait to share more pulse recipes with you this year! To learn more about the Pulse Pledge, visit www.pulsepledge.com.