If you're looking for a festive and filling vegan side dish for holiday gatherings, look no further than this cauliflower pomegranate kale salad! It's colorful, hearty, and nutrient-dense.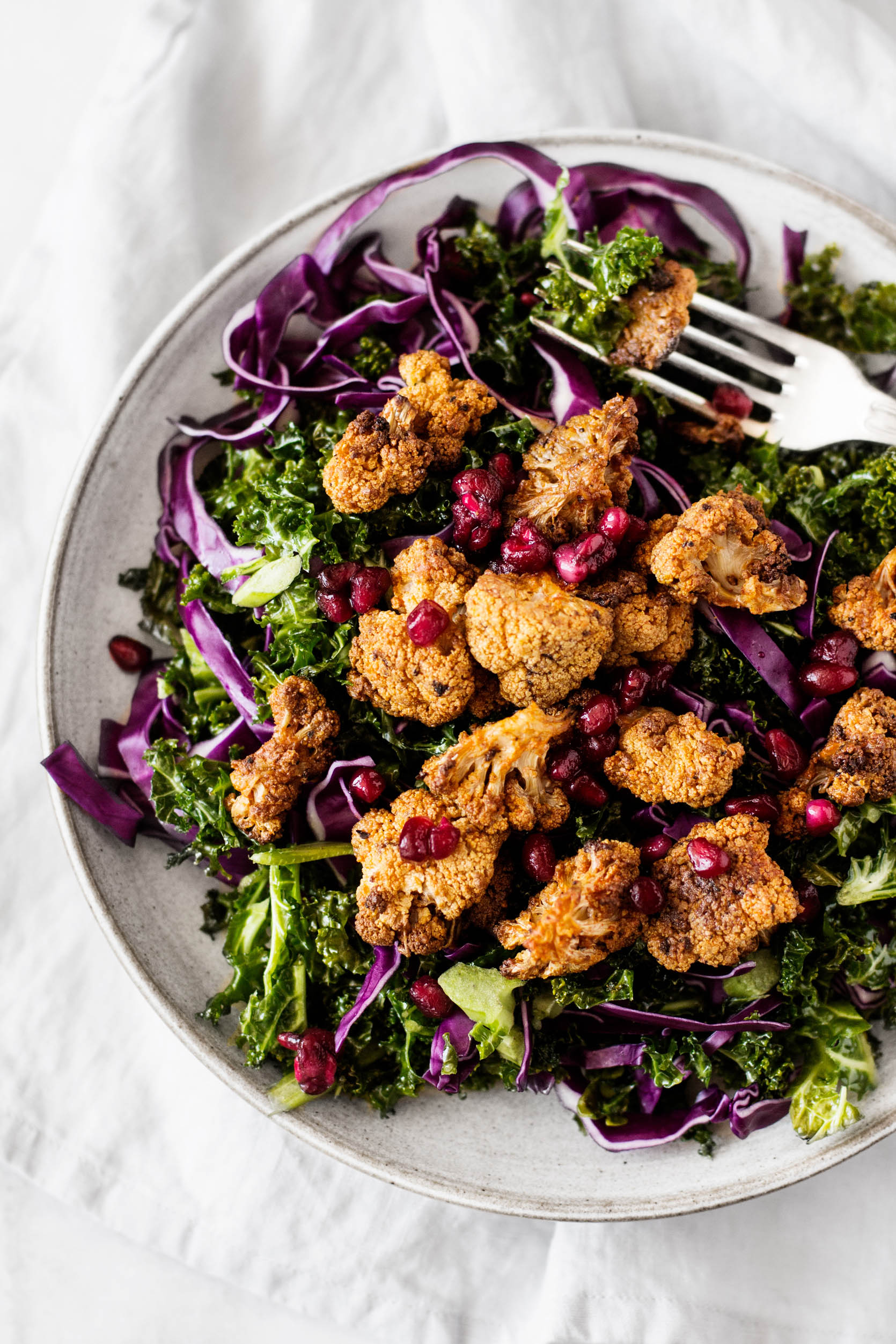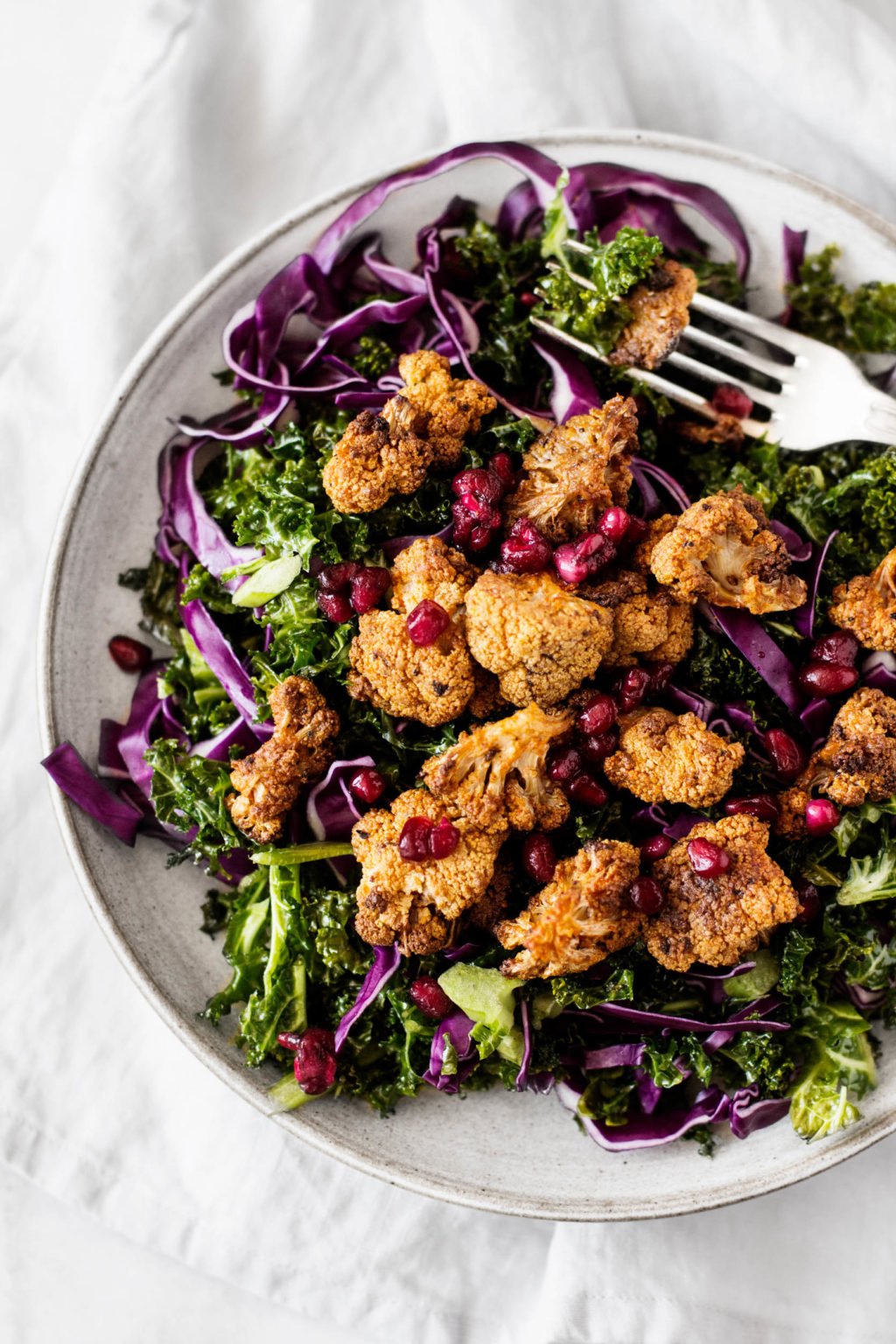 Salads that appear on holiday tables can sometimes feel like an afterthought. Bowls of dressed lettuce that are really there to offset the richness of the rest of the meal. Not so with this cauliflower pomegranate kale salad! It's full of texture and flavor, and the spice roasted cauliflower gives it lots of substance.
Creating a substantial holiday side salad
There are lots of plant foods you can use to create salad toppings that are, for lack of a better word, "meaty." Mushrooms are a popular option. So are tofu and tempeh. But there are less obvious contenders for adding heft, too. A few of my favorite ideas:
-The walnut and lentil meat from my heat free lentil and walnut tacos
–White bean or tofu bulgur meatballs
-Crumbled veggie burger
-Bread or cornbread (the panzanella treatment)
–Beans (one, or many!)
There are plenty more ideas in my primer on how to build a meal sized salad, as well as my primer in creating a perfect vegan lunch bowl.
And now, roasted crucifers are going to be a new "meaty" option for in salads.
Cauliflower isn't protein-rich in the same way that quinoa, tempeh, or crumbled veggie burgers are. But it has a crispy, satisfying texture that elevates a salad from a vegetable medley to something substantive. With the right seasonings and spices, it can be a terrific salad topper.
Preparing cauliflower pomegranate kale salad
It's always helpful to have make-ahead options when preparing holiday dishes. This one lends itself nicely to advance meal prep. You can roast the cauliflower in its spice rub one, two, or even three days in advance of tossing and eating the salad.
It's also helpful to prepare the kale for this, or any other kale salad, ahead of time! De-stemming, washing, and drying raw kale always takes me about ten minutes. I'm never sorry to have done it immediately after I bring my groceries home. I generally store my raw, chopped kale in a produce bag with a damp paper towel (this helps to keep the kale crispy and fresh).
Once the kale is roasted and the veggies are prepped, it only takes minutes to whisk together the dressing, dress the salad, toss, and enjoy.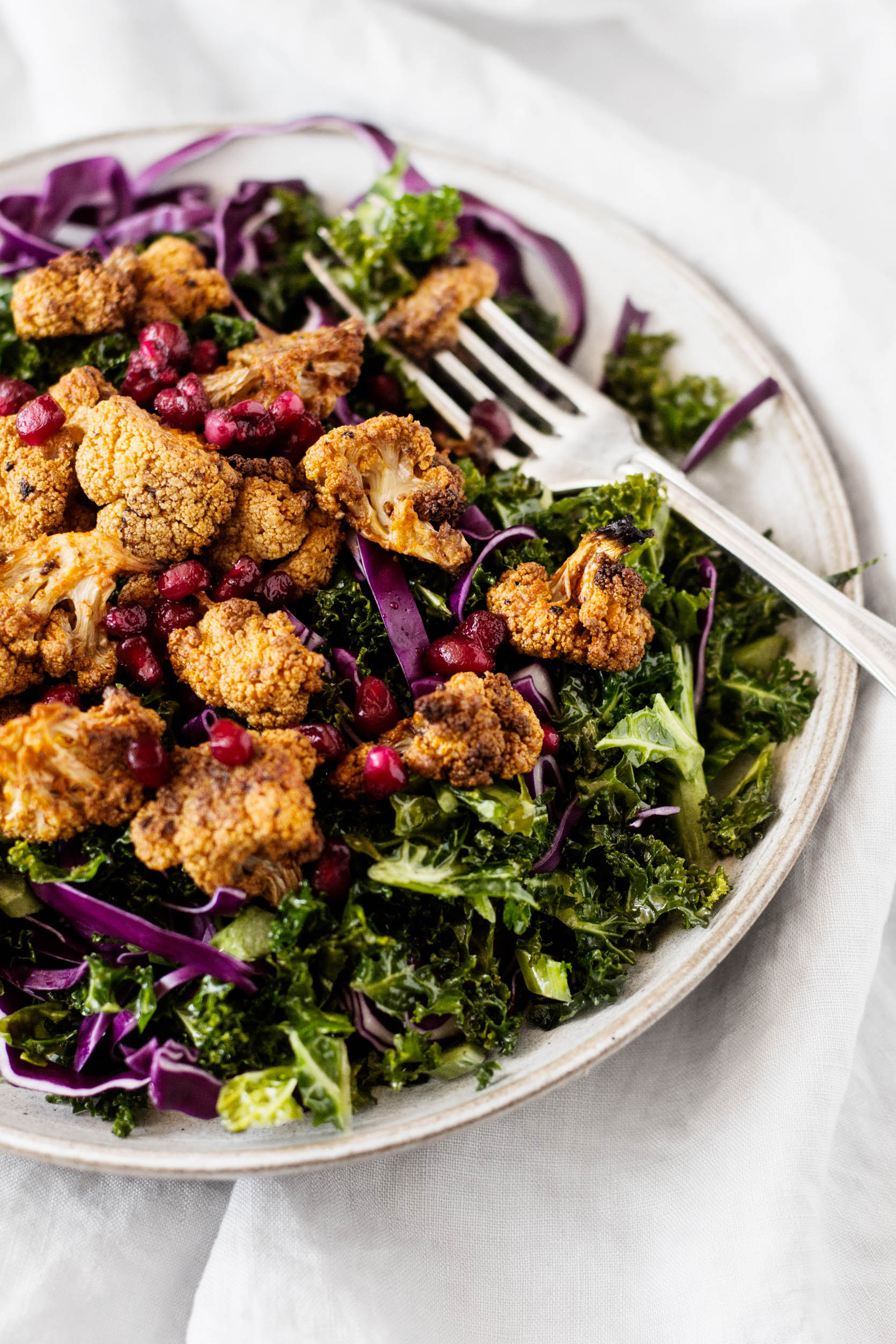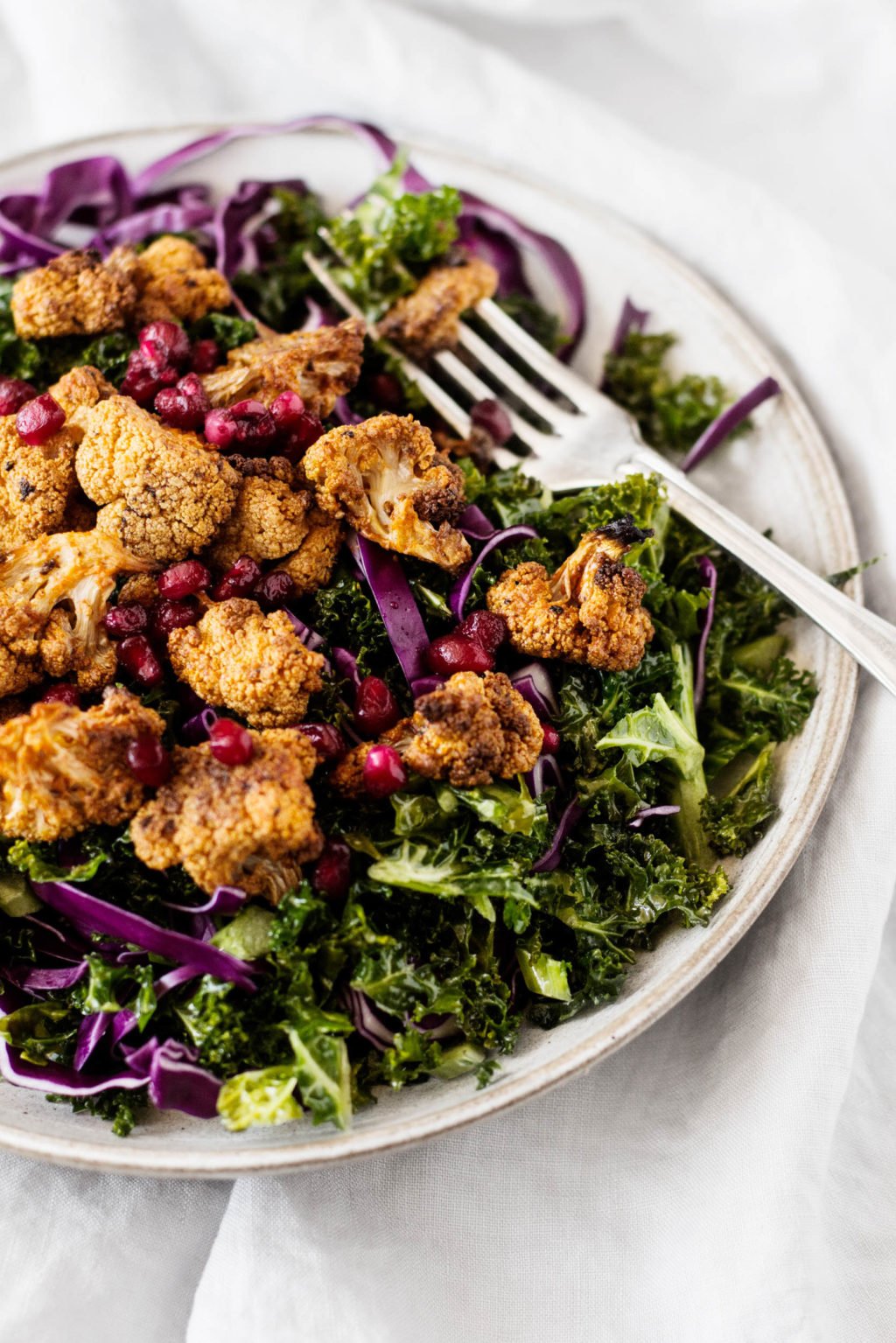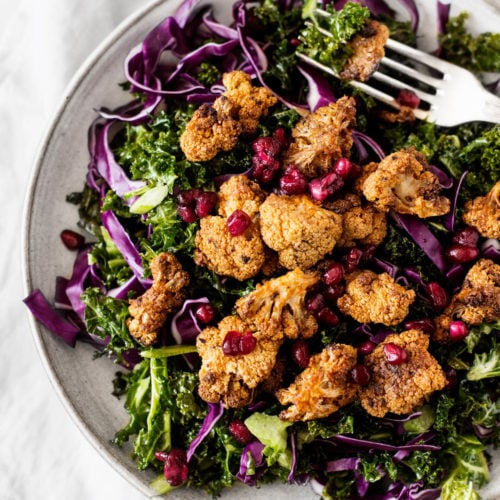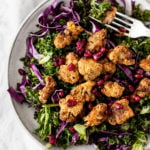 Cauliflower Pomegranate Kale Salad
Author -
1

medium head cauliflower, cut into florets and pieces

1/4

cup

olive oil, divided

1

teaspoon

paprika

1

teaspoon

ground coriander

1

teaspoon

cumin

Dash

Crushed red pepper flakes

1 1/2

tablespoons

freshly squeezed lemon juice

1

teaspoon

maple or agave syrup

1

tablespoon

nutritional yeast

1

small bunch curly kale, de-stemmed, washed, rinsed, and chopped

1

cup

shredded purple cabbage

1/2

cup

pomegranate arils
Preheat the oven to 425. Toss the cauliflower florets with two tablespoons of the olive oil in a large mixing bowl, and then add the paprika, coriander, cumin, pepper flakes, and a generous pinch of salt. Mix until the cauliflower is evenly coated with the spice rub. Place the cauliflower on a baking sheet and bake for 25-30 minutes, or until the cauliflower is browning and crispy at the edges and tender when pierced with a fork or knife. Set the cauliflower aside.

Whisk the remaining two tablespoons of olive oil together with the lemon juice, agave, nutritional yeast, and some salt and pepper to taste for a quick vinaigrette. Massage the vinaigrette into the kale, working until the kale is wilted and evenly coated.

Add the purple cabbage and the roasted cauliflower to the kale. Toss to combine. Sprinkle with pomegranate arils and serve.
Will cauliflower pomegranate kale salad keep in the fridge?
It will. One of the things I love most about kale salads is that they can be stored in an airtight container in the fridge for a couple of days. Kale is hardier than most salad lettuces. Unlike mesclun greens or lettuce, it becomes more palatable after a good vinaigrette has helped to wilt it down.
If you do store leftovers of this salad, I recommend storing the pomegranate arils separately. Simply toss them on top of the salad before you eat.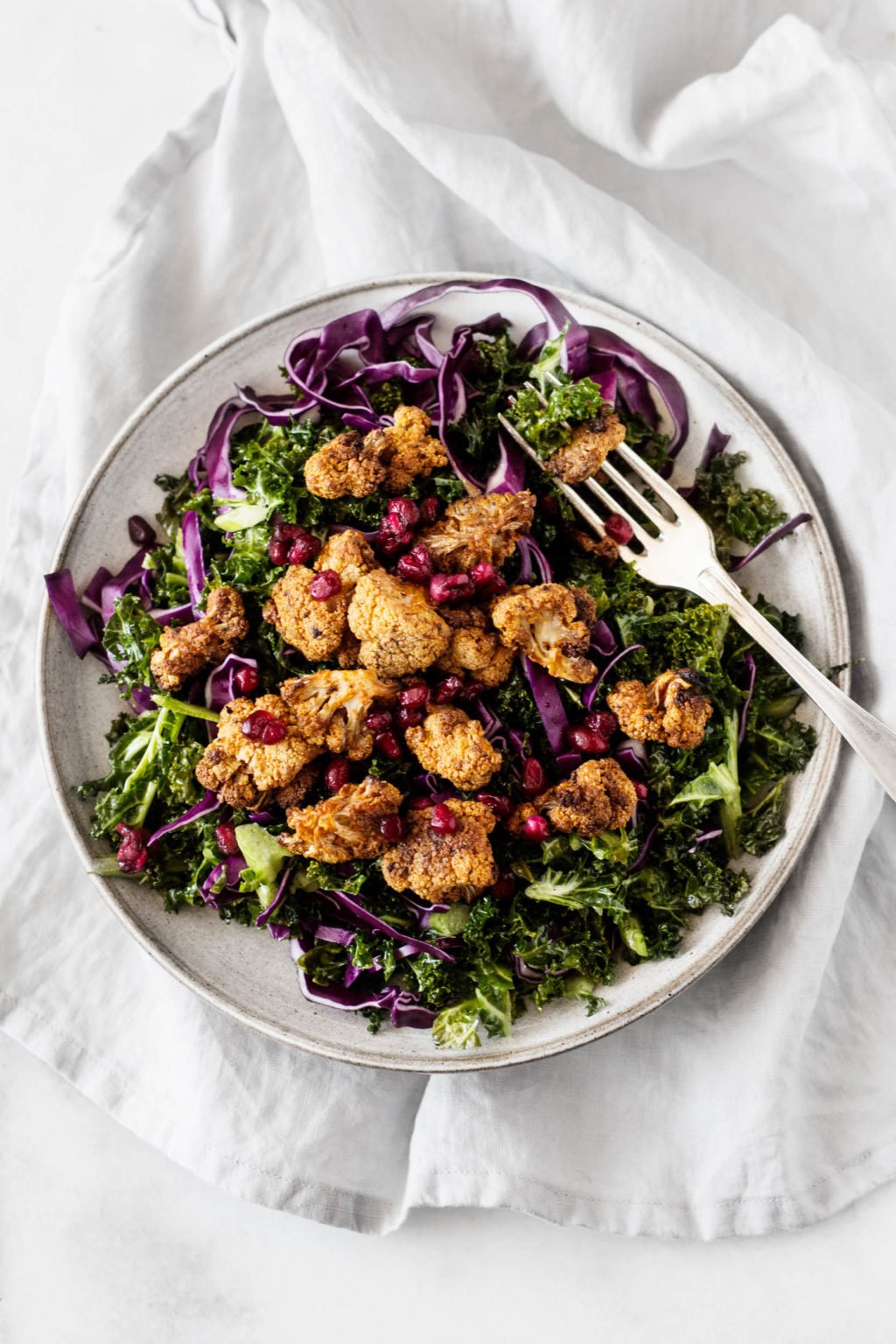 As it is, this is a great side dish for a vegan holiday feast. It works nicely with any main protein. It's also a really nice accompaniment to a whole grain dish, like a pilaf or a wild rice stuffing. If you'd like to turn it into more of a main dish, you could add some of my mustard baked tempeh, lentils, or chickpeas.
No matter what—whether it's a holiday thing, a wintertime thing, or an anytime thing—I hope you'll enjoy this phytonutrient-packed, flavorful recipe!
xo